Goldfish in a Blanket
June 8 is World Oceans Day! Celebrate by baking "goldfish in a blanket," a twist on the classic pigs in a blanket, with easy homemade crescent roll dough.
Print Recipe
Use Imperial/Metric buttons below to toggle between volume vs weight measurements. I recommend weighing out your ingredients for best results.
Ingredients
For the crescent dough
1

tsp

instant yeast

3g; equal to ½ packet

3

tbsp

brown sugar

35g

⅔

cup

Homemade Soy Milk

160g; can sub with milk of your choice

¼

cup

vegan butter or margarine, softened

55g

½

tsp

table salt or 3/4 tsp kosher salt

3g

2

cups

all purpose flour

260g
For assembling the goldfish
12

vegan cocktail sausages or breakfast sausages

I used Beyond Breakfast Sausage Links
Instructions
Knead the dough
Add all the dough ingredients (yeast, sugar, soy milk, butter, salt, flour) to the bowl of a stand mixer. Mix together using the dough hook on the lowest speed setting.

Once flour has been fully incorporated, increase speed to the second-lowest setting and knead for 5–8 minutes.

The dough should now be quite soft but not really sticking to the bowl or your hands. Grease the bowl with a little bit of oil and plop the dough in.

Cover (with a lid, damp towel, or plastic wrap) and let rise for 1 hour.
Assemble the goldfish
After an hour's rise, the dough should be doubled or almost doubled in size. Punch it a few times to get rid of some of the air, then turn out onto a work surface.

Shape the dough into a rough log and slice into 12 equal pieces.

Roll each piece out into a flat oval shape. See step-by-step pictures.

Place a sausage in the top-center of each piece of dough.

Using a small knife or bench scraper, slice the dough on either side of the sausage into broad strips. See pictures.

Alternating sides, wrap each dough across the sausage, one over the other, to form a pleated pattern, leaving a few strips of dough at the bottom for a tail.

Fan out the strips at the bottom for a pretty tail!

Spread out each goldfish on a baking sheet, cover, and let rise again for 30 minutes. (They won't grow as much this time.)

Bake the goldfish at 375 °F for 15 minutes or until slightly brown on top.

Move to a cooling rack for ten minutes, then enjoy!
Nutrition
SEND FOOD PICS 📸
Tag @earthtoveg or leave a comment below if you tried this recipe. It makes my day. 😊
Recipe Notes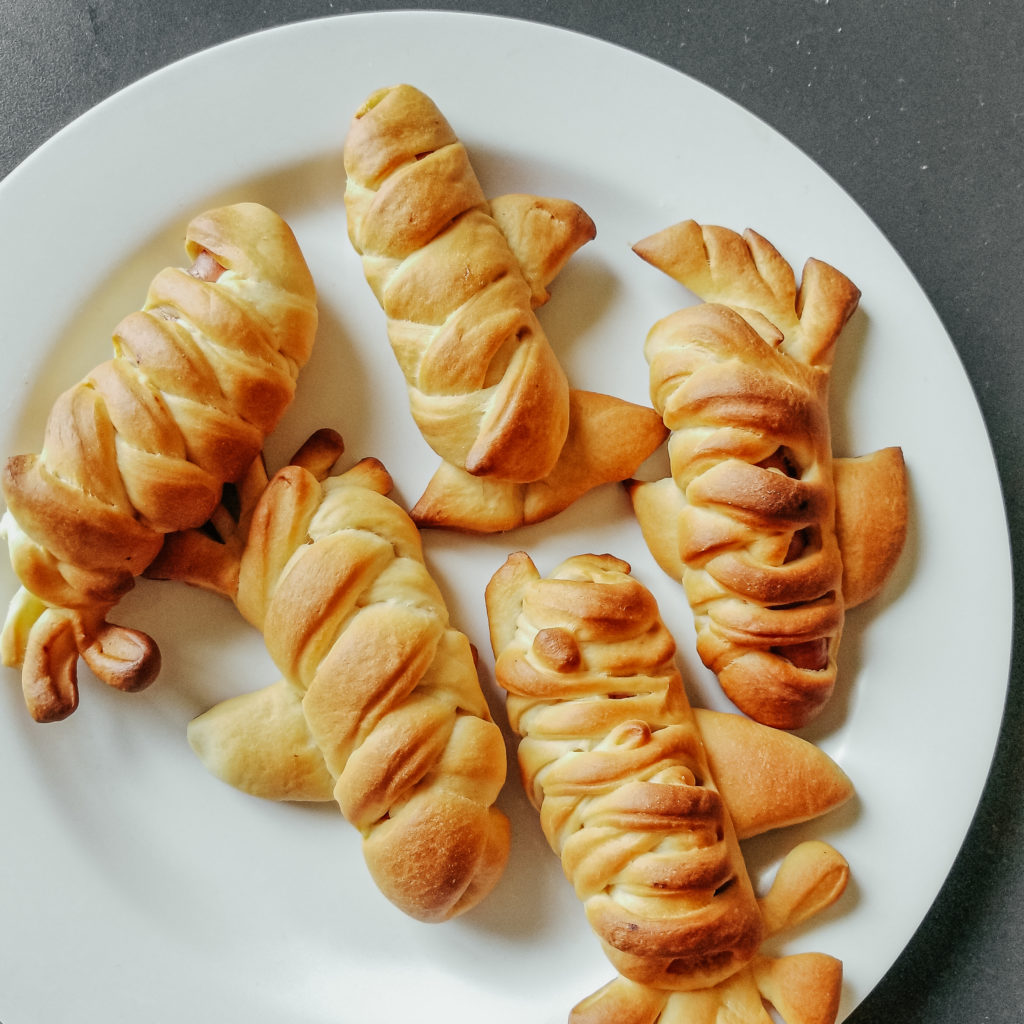 You can, of course, use this recipe to make regular pigs in a blanket. Skip the extra folding steps—just roll up a sausage in each piece of dough and bake!
The dough recipe is adapted from Taste of Home's recipe for crescent rolls. I used milk powder, also known as dry milk, because it's convenient, but you can use fresh milk as well. Just swap the water for milk and leave out the powder.
If you're unclear on how to fold and shape the goldfish, check out the step-by-step photo guide at the end of this post.
Celebrating World Oceans Day
June 8 is International World Oceans Day!
Did you know that over 80% of the ocean is still undiscovered?! It's one of those things that boggles my mind every time (along with space, time travel, people who don't like bread, etc). We've been on this earth for millions of years and have colonized just about every square inch of land, yet we know so little about the ocean. But to be honest, we are kinda fucking it up in a lot of ways. You know, over-fishing, garbage patches, climate warming killing off entire ecosystems… yeah humansareterriblepeople
However, there are also plenty of great things happening out there in the deep blue! In addition to pushing for sustainability and conservation, World Oceans Day is also about highlighting innovations happening with ocean resources.
The idea of a special day to celebrate our oceans and increase awareness about their importance was first introduced by us Canadians, which is a pretty cool bonus.
The Ocean's Answer to Pigs in a Blanket
Although you wouldn't be wrong wondering why (whoa, look at that alliteration) I didn't make actual seafood for World Oceans Day, I have a simple answer: I'm outta fish. Well, there are some canned tuna and sardines in the pantry, but that's boring.
I wanted to make something a bit more visually ocean-y, so I started by Googling "fish bread." I know… not appetizing. I was surprised to see lots of results, mostly recipes featuring the popular Korean and Japanese pastry. However, you need a special fish-shaped mold to make those, which I didn't have.
Then I noticed a Youtube video posted by Raihana's Cuisines for making a braided fish-shaped bread. Raihana gets all the credit for inspiring these little goldfish.
What Kind of Sausage to Use?
Cocktail wieners are the go-to for pigs in a blanket, so they would be fantastic in this recipe as well. However, I opted for mini breakfast sausages instead.
I rarely buy sausages (or cured products in general), but when I do I try to find ones that are nitrate-free. It's pretty hard to find nitrate-free sausages in the grocery store—another reason I don't buy that often. I was lucky enough to stumble upon a local business here in Waterloo called Meatarian. They're a small shop specializing in smoked meats, and they carry a huge variety of sausages, all nitrate-free! They usually have a booth open at the Kitchener Market, but since COVID shut that down, they are now doing deliveries within KW (free for orders of $25).
My first order from them included some garlic sausages (haven't tried those yet) as well as a pack of mini breakfast sausages. They were the perfect size for making pigs in a blanket, and Kevin said they were delicious.
If you live in the Kitchener-Waterloo region, considering trying these folks out. The service was fast and friendly, and it feels great to cook with products that you know were made with care.
Step-by-Step Pictures for Folding Goldfish in a Blanket
Although these fishies look fancy once baked, they're actually very easy to shape. The dough is nice and buttery, so there's also no need to worry about it sticking to your fingers.
I put together this set of photos to help you through the assembly process. Note that although these pictures use a different filling (I was testing out a sweet variation), the steps are exactly the same if you are using sausages.