Hello guys! During my recent Googling adventures in search of ingredients for a Mediterranean baking project, I stumbled upon a new online store. Since COVID started, some people have been turning to retail therapy as their outlet, and I guess my retail therapy is buying and trying new food. That's why I was excited to find Turkish Bazaar, a Canadian online business dedicated entirely to Turkish ingredients and products. I've learned so much just researching these products and finding recipes to use them in, that I'm excited to dive into the world of Turkish cooking! (I am not being compensated for my review and I am definitely not affiliated with Turkish Bazaar in any way, aside from being a customer.)
Jump to a Section in This Post
Selection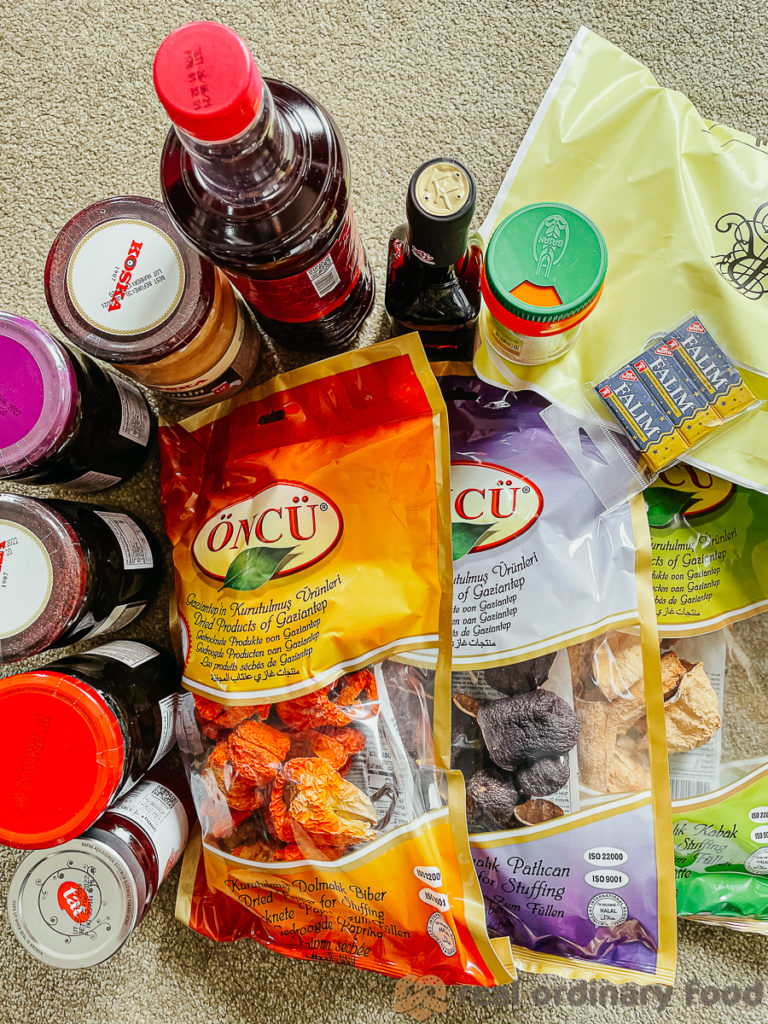 Turkish Bazaar states that 90% of the products sold on its website are imported from Turkey. There were items on there that I had never heard of, like şalgam or mastic gum, and I had a lot of fun learning about some of these foods that are pretty common in Turkey but virtually unknown in North America.
Some Turkish ingredients, like pepper paste, bulgur, and lentils, can be purchased inexpensively from any chain grocery, so there's no need to order those online unless you're partial to a particular brand. But other things, like pekmez, mahlab, and dried eggplant, are just about impossible to find unless your city is blessed with a well-stocked specialty store.
If you are a coffee or tea drinker, there are also several Turkish teas and coffees to choose from. Finally, Turkish Bazaar carries a decent variety of home decor, teapots, jewellery, and other non-food items.
For some reason, though, the store is missing some popular Turkish ingredients. The ones I was looking for specifically were sumac, vine leaves, and filo (yufka). Not sure if these were sold out at the time of browsing or they are simply not carried. Despite this, I think you can get a lot of your specialty Turkish food needs fulfilled here.
Cost & Pricing
Given that this is a small business dealing with imported ingredients and shipping logistics, stuff is obviously going to be more expensive than at big box grocery stores. (For reference, I use prices listed on the websites of Real Canadian Superstore as representative of "affordable Canadian grocery prices.")
For example, Turkish Bazaar sells a 570 g jar of Tat brand red pepper paste for $6.99, while RCSS sells a similar jar (Sera brand) also for $6.99, but containing 720 g. A jar of Koska tahini from Turkish Bazaar costs $10.99 for 620 g, while RCSS carries Tamam tahini for $6.88 for 907 g.
Disregarding any differences in quality (and I am not going to do brand comparisons because this is a store review not a brand taste test), products sold on Turkish Bazaar are definitely a little pricier, but nothing exorbitant. Overall, I was pleasantly surprised by the reasonable markups. After all, we can't expect an online store to match the prices of a brick-and-mortar. Heck, even buying ingredients on Amazon is more expensive than shopping in person, and I'm more than happy to give my business to independent stores over Amazon. Especially when this one provides free shipping for orders over $99!
Shipping & Delivery
Now that I've mentioned delivery, let's talk about that because 1) I'm a hoe for free shipping 2) the company's generous shipping policy is a big plus. Not only do they offer nationwide delivery to your door, they also waive the fees if you spend more than $99, which is not hard to reach. While it is possible to find Turkish ingredients locally if you live in a bigger city, nothing beats the convenience of having it dropped off at your doorstep, especially during these pandemic times. Also, if you're in a small town without international grocers then online shopping may be your only option, which is why it's great these kinds of shops exist.
There is a 10 kg limit for free shipping (ie. the total weight of your order cannot be over 10 kg) which implies a sweet spot to be eligible for free shipping: you have to spend over $99 but you can't spend too much more than that, cuz I'm pretty sure if you buy $500 worth of stuff that's going to weigh more than 10 kg. Personally, I spent $105 and my order weighed about 9 kg.
The turnaround time for my order was pretty fast, especially since I placed my order during the holidays. It took two business days to be processed, then just over a week to be shipped to me from Oakville, ON to Calgary, AB.
Everything was wrapped very carefully, and even though I had ordered several glass jars and liquids, they had been packaged individually in bubble wrap and everything was nice and secure inside the box.
Shopping Experience
Overall, the website is very easy to use and navigate. I had no issues with adding items to my cart or checking out.
One complaint I do have with the site is the lack of an ingredients list or any nutrition information on most product descriptions. For example, when I shop for ingredients, especially ones I'm unfamiliar with, I'd like to be able to see the ingredients to get an idea of what's inside, if there are any additives, what the nutrition label looks like, etc. Plus, for those of us who have allergies or are following a diet like vegan or plant-based, ingredients are even more important. Since this information was not available, I had to separately Google the brand names of each product to check ingredient labels.
One of the items I could not find information on was the ground mahlab, but I bought it anyway. Only after receiving it and looking at the package did I find out it was mahlab mixed with flour. Having this kind of information before ordering would certainly help people out, especially gluten-free folks in this case.
My Turkish Bazaar Order
If I were a Youtube shopping haul channel this is where I'd be like HI YOUTUBE, WELCOME TO MY UNBOXING VIDEO ? but I'm not so you'll just have to be content with these static pictures.
Here's the list of things I bought (my total after taxes was $105.53):
Ground Mahleb (Mahlab)
$8.79 for 75 g
As mentioned above, it was only after I received this that I discovered it wasn't pure ground mahlab, but rather a 60/40 mahlab–flour mix. Not a huge deal for me, since I plan to use it mostly for baking anyway and I'm not celiac. Just have to keep in mind to double up the amount. I've already used it in a chocolate tahini cake/muffin recipe that got lots of praise from my mom.
Fruit Molasses
Grape molasses and tahini combo pack, $22.99
Carob molasses, $13.99 for 800 g
Mulberry molasses, $10.99 for 800 g
Fruit molasses (pekmez) is a big thing in Turkey but it's quite unknown over here in North America. I have really fallen in love with these sweet, versatile syrups. I have written a huge, comprehensive post called A Guide to Pekmez where I go into detail about the role of pekmez in Turkish cuisine as well as a taste test with the three varieties that I bought. Check out that post for details on how to use this product!
Pomegranate Molasses
$7.29 for 250 mL
A classic ingredient in salads and stews of Middle Eastern cuisine (particularly you may have seen it in a lot of Persian recipes), pomegranate molasses are likened to balsamic vinegar in their strong, tangy taste. The Turkish name for this condiment is nar ekşisi, "pomegrante sour."
Unfortunately, Turkish Bazaar only carries this bottle, which contains sugar. I was hoping to find a no-added-sugar version, but it looks like most brands do add sugar. Nevertheless, I'm sure it will be quite tasty as Kemal Kükrer is a well-established producer of this sauce. I'm planning on trying some of the recipes from Kemal Kükrer's website and will let you guys know how I like it!
Şalgam (Shalgam)
$3.29 for 1 L
This drink which claims to be a "popular soft drink" in Turkey is so bizarre it deserves its own post. I'll be detailing my thoughts on this product (as well as my family's, whom I forced to try this) in the next post.
Follow my newsletter to get notified when the post drops, or check back here after a week or two for a link to my review.
Rose Jam
$4.29 for 380 g
I haven't opened up this jar yet, but I'm excited to use it. It looks so pretty! I haven't looked into uses for rose jam beyond spreading it on toast, anyone have a recipe recommendation for me to try out?
Dried Vegetables for Stuffing
Bell pepper, $7.99 for 25 pc
Eggplant, $7.99 for 25 pc
Zucchini, $7.99 for 25 pc
One food that I love but don't get to eat very often is DOLMA! Dolmak in Turkish means "to fill," and dolma refers to any of the endless variations of stuffed vegetables you can find in Turkey and many other Middle Eastern countries. The most common wrapping you have probably seen is vine leaves, but it's also very popular in Turkey to use dried eggplant, bell pepper, or zucchini skins. I have never eaten this version before, so I'm excited to make my own using these veggie shells.
Baldo Rice
$6.49 for 1 kg
This rice variety is a Turkish original, and it's perfect for any Turkish recipe that calls for short-grain rice. I'm planning to use it for a dolma dish, probably in conjunction with the dried vegetables above. I have used baldo rice before for a vine leaf dolma, but also for risotto, where it works very well! (It is a starchy rice variety just like arborio.)
Mastic Chewing Gum
$2.19 for 3 pk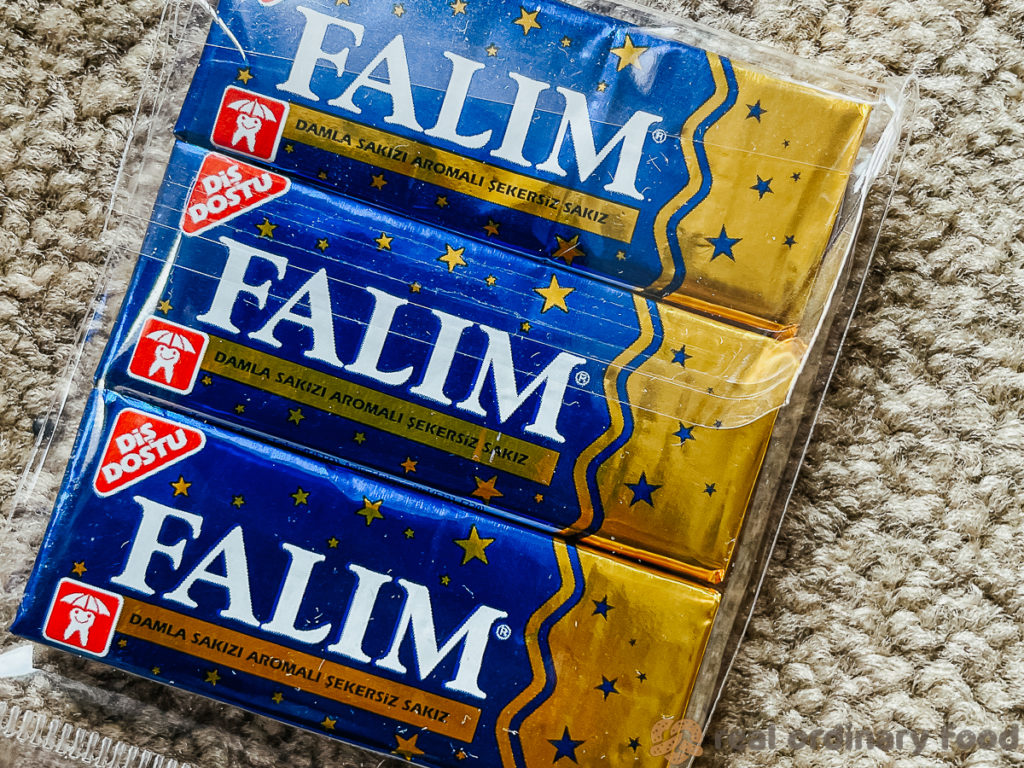 This is another pretty… uh… special product. Mastic chewing gum is a type of gum specific to Greece and Turkey. I got my family to try this one right after tasting the şalgam, and I fear I've created a terrible impression of Turkish food in their minds.
Again, this little pack of chewing gum is just so different from anything else I've ever tasted, that I'm going to dedicate a whole other post to it. Subscribe to the Earth to Veg newsletter to get notified when the post drops, or check back here after a week or two for a link to my review.
Follow my newsletter to get notified when the post drops, or check back here after a week or two for a link to my review.
Conclusion and Final Thoughts
Overall, a very fun purchase with a lot of interesting new things. Notice I didn't buy any coffee, teas, or non-food items, which make up a significant portion of their website. Therefore, I can't comment on those things. But I can say that the food offerings at Turkish Bazaar are top-notch in terms of quality, even if I may not necessarily… enjoy some of the tastes.
Would I buy from them again? Yup! I am really happy with the convenience of shopping here and the fair prices. It's a great time we're living in when we can taste ingredients from the other side of the world without ever leaving the house!