It's a historic moment here in the Earth To Veg household. We've finally found a vegan restaurant that my meat-loving boyfriend not only enjoys, but wants to go back to. In the four years we've known each other, this has never happened once!!
So where is this magical place of happy vegan and omnivore coexistence?
MeeT on Main
MeeT is a locally owned chain of restaurants in Vancouver, Canada. They opened their first location on Main Street in 2013, and have since then expanded to two other locations in the city. Starting off as a vegetarian restaurant, they made the transition to fully vegan in 2016.
Everything on their menu is vegan, although they never use this word on their website. As one of the owners explains, their mission is to encourage the non-vegan population to eat more plant-based:
We also really want to continue to be known as a "restaurant", not be labelled as vegan restaurant. It's very important to us to be able to shift the tides in the main stream in subtle yet powerful manner.

– Jason Antony in the Vancouver Vegans Facebook group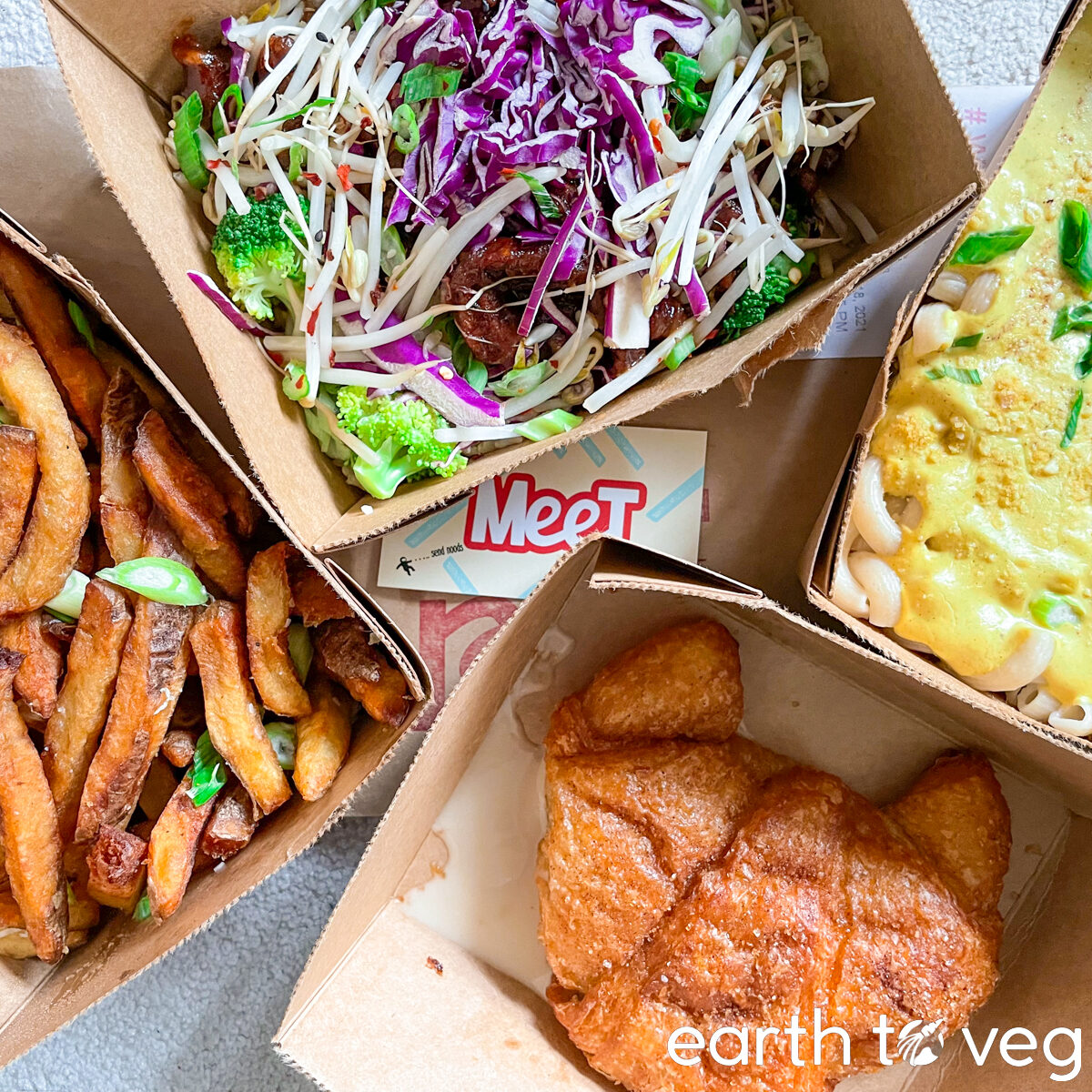 Locations
MeeT has three locations as of 2021, all in Vancouver: Main Street, Yaletown, and Gastown. The regular menu items are identical except for the weekly specials, which vary for each location. Gastown also has an additional brunch menu which is available daily until 4 pm.
We've only been to the one on Main Street since that's the closest. Parking around that area is a pain, since it's cramped and the street is always busy, so we get takeout. Please note if you're dining in, they do not accept reservations therefore everything is first-come-first-serve. I suggest avoiding peak lunch and dinner times, because it's been packed every time I've gone there to pick up an order.
Takeout and Delivery
MeeT offers delivery as well as pickup—you can see all the options on their website. The takeout experience has been pretty good: most items hold up well for a 30-minute or so car ride, and some items are even packaged specifically for takeout.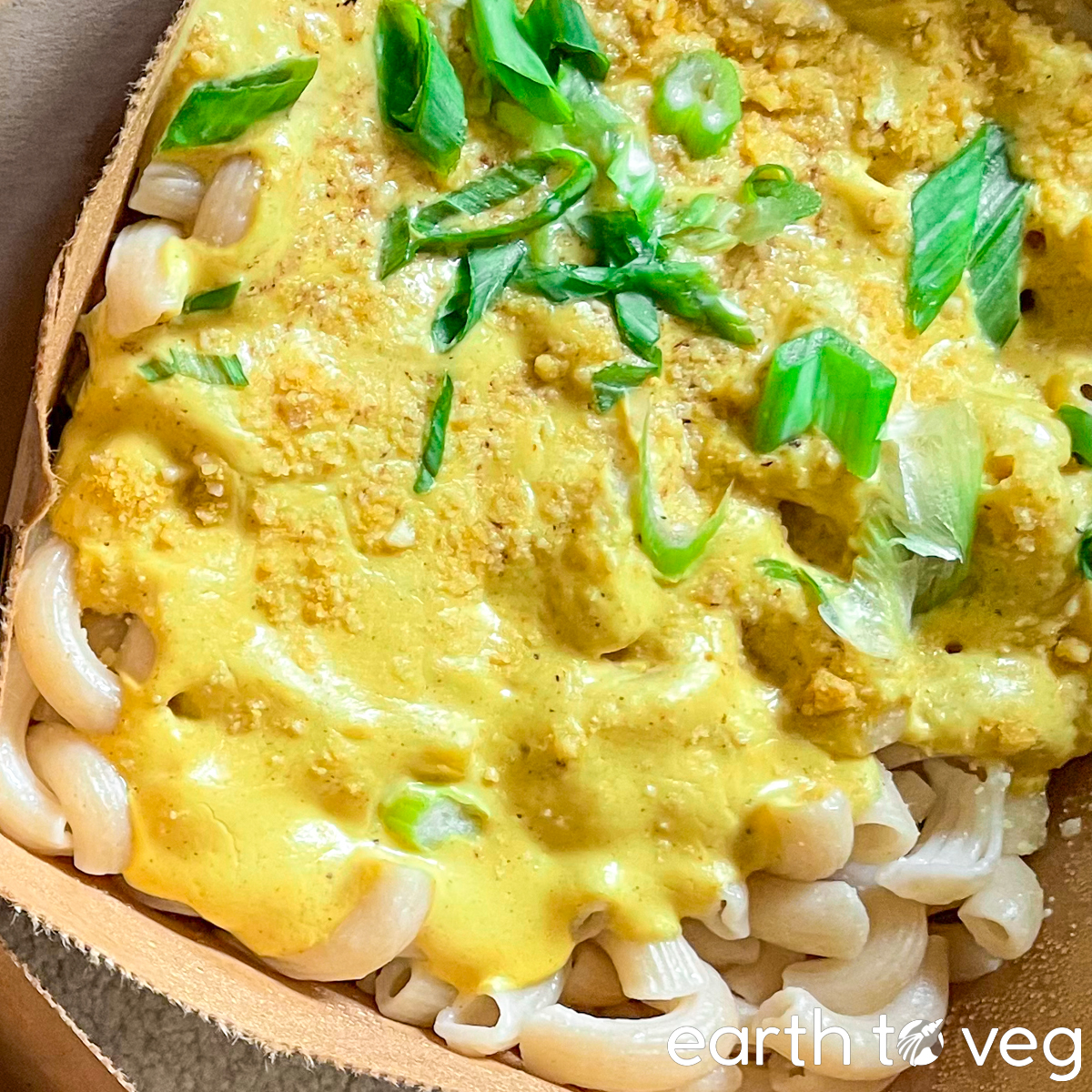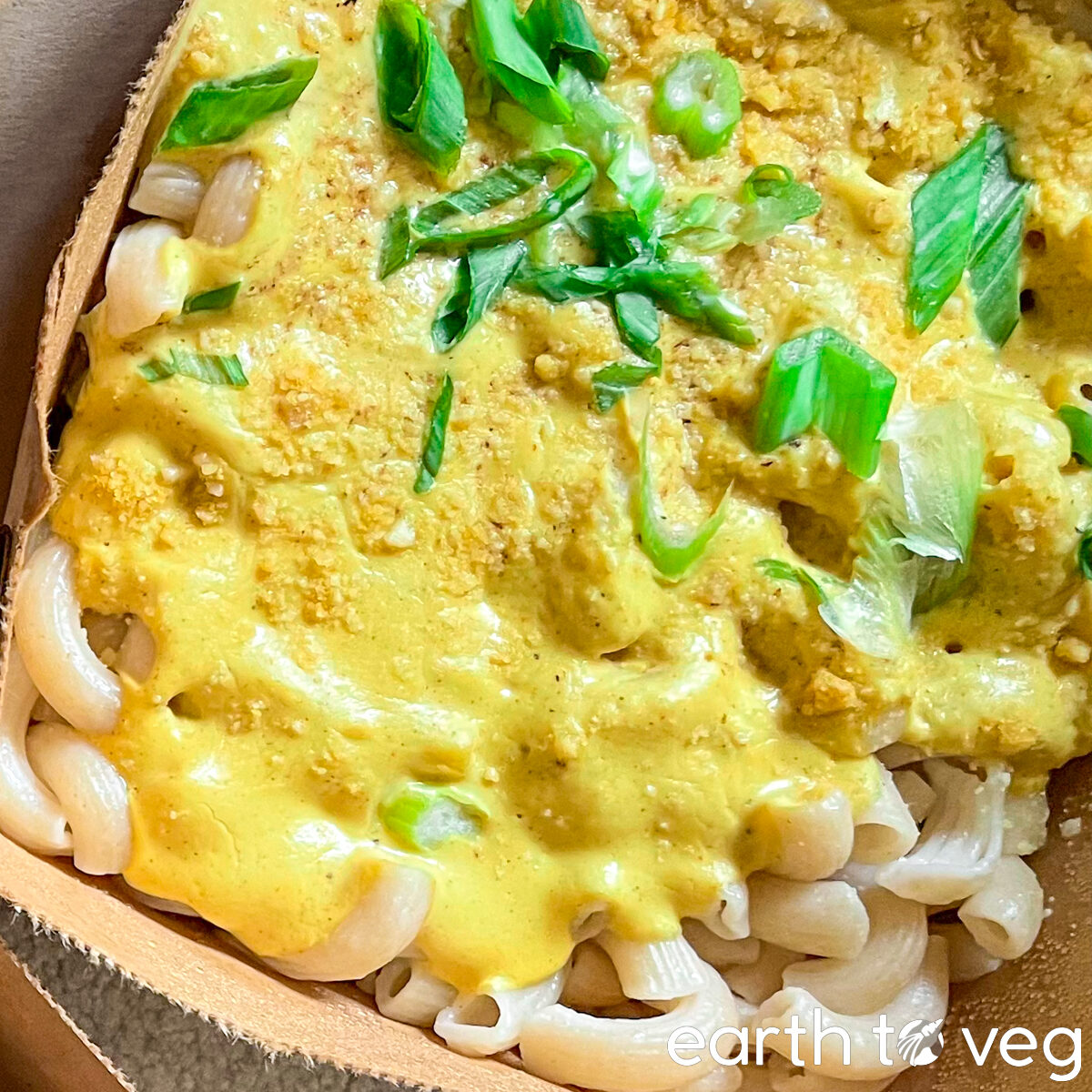 Some items still need to be optimized for pickup and delivery, though, such as the cronut. Half of the coconut cream ended up leaking out of the pastry before we got home.
Menu Highlights
Here I'm going to share some detailed comments on the menu items we've ordered from MeeT.
Ginger Beefless Bowl
$16.75 | Rating: 8/10
The first time I ordered from MeeT Vancouver, I got the Oyster Mushroom Kalamari and Ginger Beefless Bowl.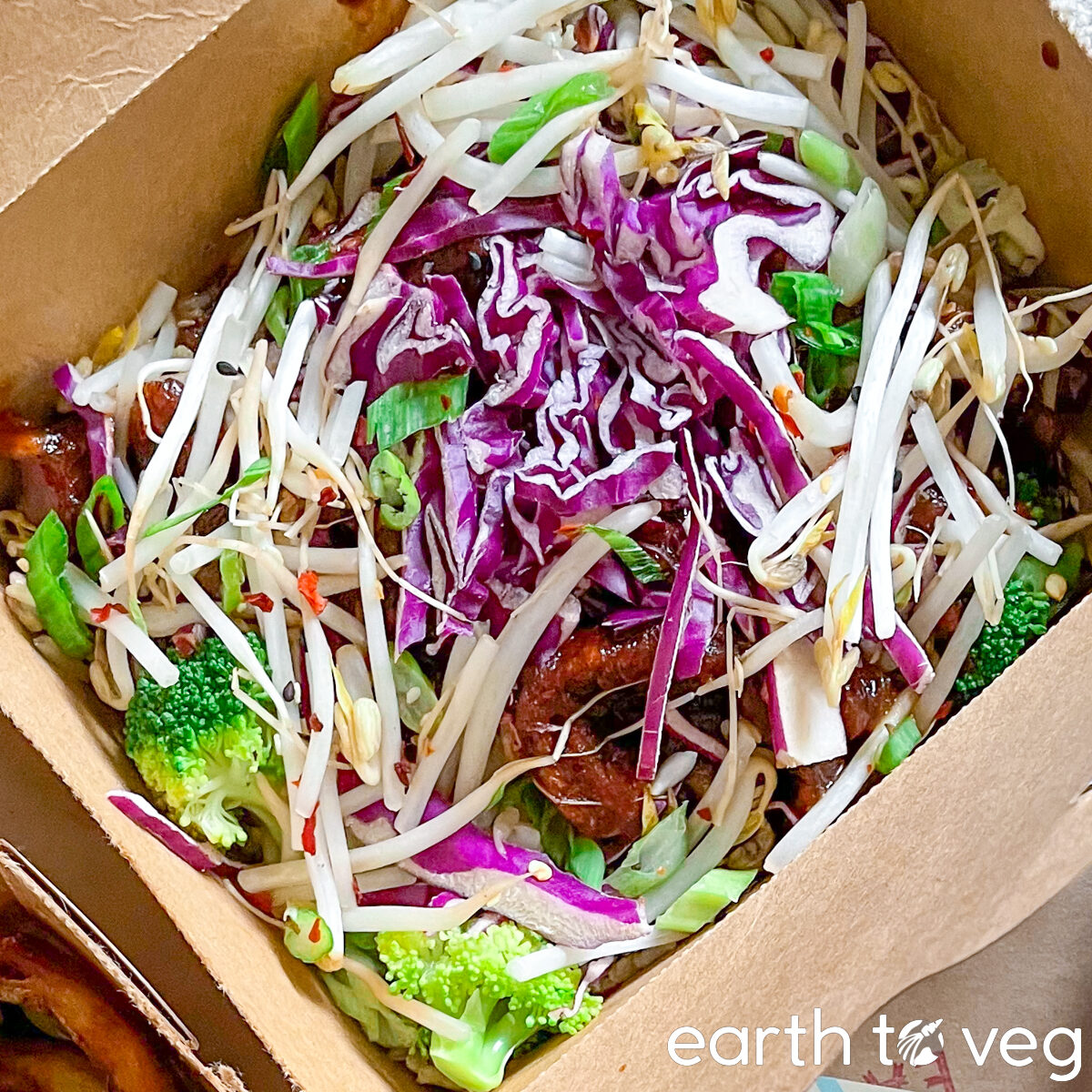 The portions were more filling than I expected, so I got Kevin to help me finish the Beefless Bowl. To my surprise, he liked it so much that he wanted to go back again and order a bowl for himself!
(Personally, I thought the Kalamari was the better dish of the two, but Kevin is a mortal enemy of mushrooms.)
The Beefless Bowl contains soy curls covered in sweet garlic-and-ginger sauce, along with a medley of vegetables such as purple cabbage and broccoli, over a bed of brown rice. Even though none of these things are on his go-to list of foods, Kevin still enjoyed the bowl. That just shows you how tasty it was.
We both agreed, however, that the sauce-to-rice ratio was way off. There was too much sauce for the amount of rice provided. If ordering for takeout or delivery, you could steam some of your own rice at home and add it to this order. That would make this closer to two-person meal as well.
Oyster Mushroom Kalamari
$12.75 | Rating: 9/10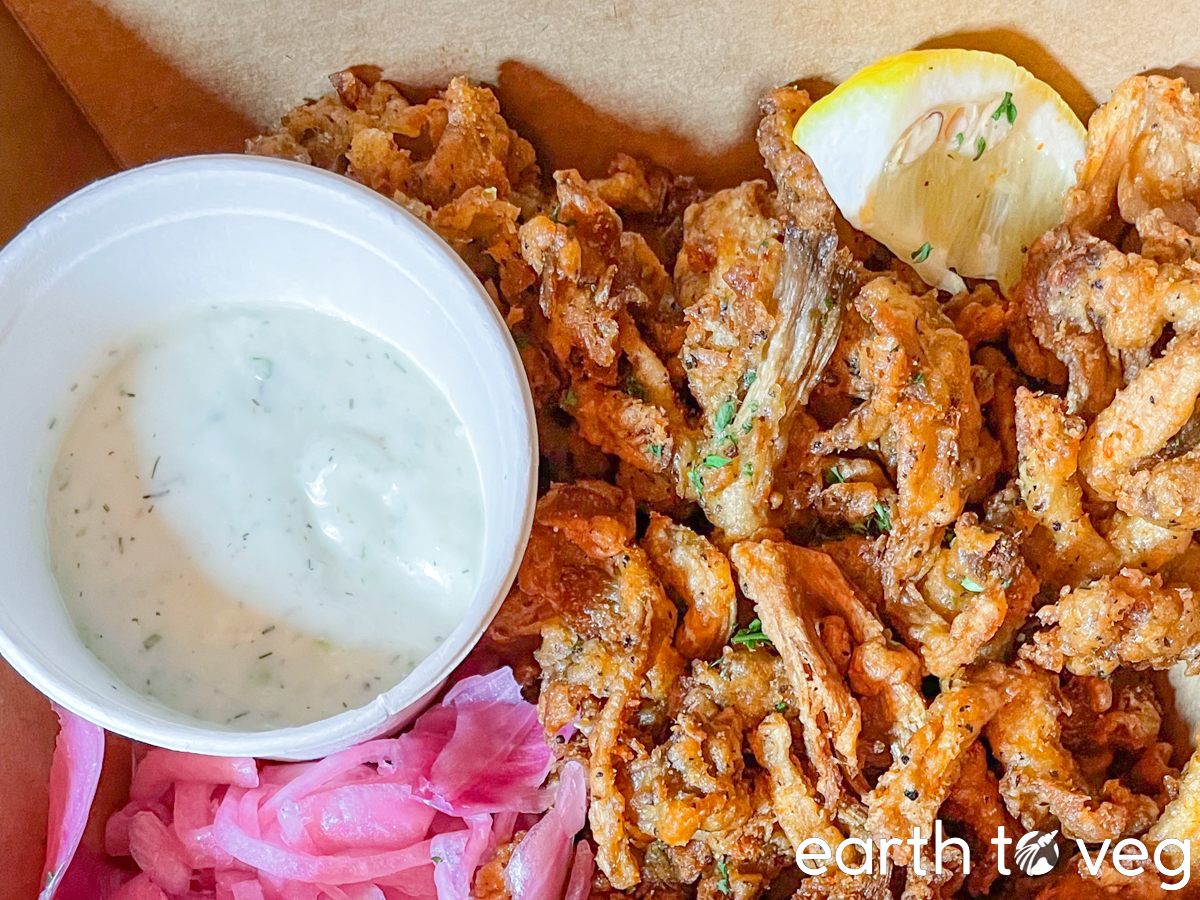 Of all the menu items from MeeT that I've tried so far, the Kalamari is near the top. Even after they sat in a closed cardboard box for half an hour, most pieces were still warm and crispy. The seasoning for the batter was on point, and the mushroom pieces were perfectly supple with a hint of chewiness. Exactly what real calamari should taste like (I think)!
The only part I didn't enjoy was the tzatziki sauce. It was a tiiiny bit too thick. But the pickled onions were delicious together with the Kalamari, and I'm saying this as someone who does not usually like pickled stuff.
I am always impressed by the ideas people come up with for repurposing oyster mushrooms, from "scallops" to "pulled pork." This one might be the tastiest one yet.
Mac N' Cheez Bowl
$14.25 | Rating: 6/10
The Mac N' Cheez bowl is very simple. It consists of macaroni pasta in a creamy cashew sauce. For pickup orders, the sauce is placed on top instead of being mixed evenly throughout the noodles. This helps prevent sogginess. Indeed, I didn't experience any sogginess from the noodles; as a matter of fact, they felt a almost rubbery, like they were made with brown rice pasta or something. (Now that I'm looking at the menu again, they usually indicate which menu items contain gluten and it's not indicated for this one. So it really may be some kind of gluten-free pasta in there.)
In total contrast with the Beefless Bowl, I wish there was slightly more sauce for the amount of pasta. I also liked that it came topped with chopped scallions, but once again, more would've been better.
The flavour overall was lacking. Even though the salt level was okay, the whole thing tasted a trifle bland. The nutritional yeast was pretty strong in this one, and caused it to have an almost medicinal flavour. Also, the cheez sauce was creamy, yes, but not gooey like a real cheese. I just want a vegan mac with cheese that can stretch, even a little. Is that too much to ask?
(LOL, reading back on this I feel like I'm making it sound super bad, but it truly wasn't horrible. Hence why I'm still giving it a passing grade. I just think there are better things on the menu.)
Butter Chikkin Poutine
$14.75 | Rating: 5/10
Butter chicken used to be a favourite of mine before I stopped eating meat. I've made many disappointing homemade vegan versions, so I was really hoping MeeT would blow my mind for this one. Unfortunately, it was the latest addition to my list of disappointments.
The gravy for the poutine didn't work well with the tomato curry, and the curry itself didn't have the creamy richness as advertised, especially after being diluted with the salsa. Both the taste and texture of chikkin were unremarkable; I also would have liked the pieces to be larger.
Overall, I think there was too much going on this dish, what with the fries, the curry, the gravy, the cheezes, the salsa, and the cilantro. All the flavours competed with one another and resulted in a forgettable meal.
Satay Sauce and Spicy Mayonnaise Fries
$9.75 | Rating: 8/10
These fries come topped with fresh scallions, and have almond-based satay sauce, vegan chipotle mayo, and pickled onions on the side.
First of all, the pickled onions are great. They are the same ones in the Oyster Mushroom Kalamari. (However, I think they are yummier paired with Kalamari than with fries.) The chipotle mayo isn't quite as exciting—it's got a similar texture and heaviness like the tzatziki sauce, and not spicy as advertised—but still makes a decent dip. The fries themselves are yummy, just like 80% of all fries I've eaten. (I don't have a high standard for deep-fried potato-y things.)
The almond satay sauce, though, is where it's at. Again, I wish there was more of this sauce, because there isn't enough to coat all the fries satisfactorily. Satay sauce is traditionally made with peanuts, but MeeT is a peanut-free establishment, and they make the almonds work. It's sweet and savoury and pretty addictive.
Cronut
$8.75 | Rating: 10/10
The cronut is one of those seemingly impossible-to-veganize desserts that I never expected to ever try. But MeeT somehow made it possible.
The pastry dough on this cronut tastes exactly like regular croissant dough. The coconut-based Bavarian creme might be a giveaway that it's vegan, but honestly, I don't think any non-vegan would mind the taste at all. It's just as rich as any dairy cream and the coconut flavour pairs perfectly with the pastry.
It was good. I don't think it's a 10/10.

– Kevin
Kevin thinks I rated it too high, especially given the price tag. Yeah, $9 for a donut is steep. But as an avid baker myself, I know how hard it is to make good vegan pastries. The fact that it kind of fell apart during the car trip home (the sauce oozed out all over the place), but remained flaky and delicious, is a testament to its tasty power.
Final Thoughts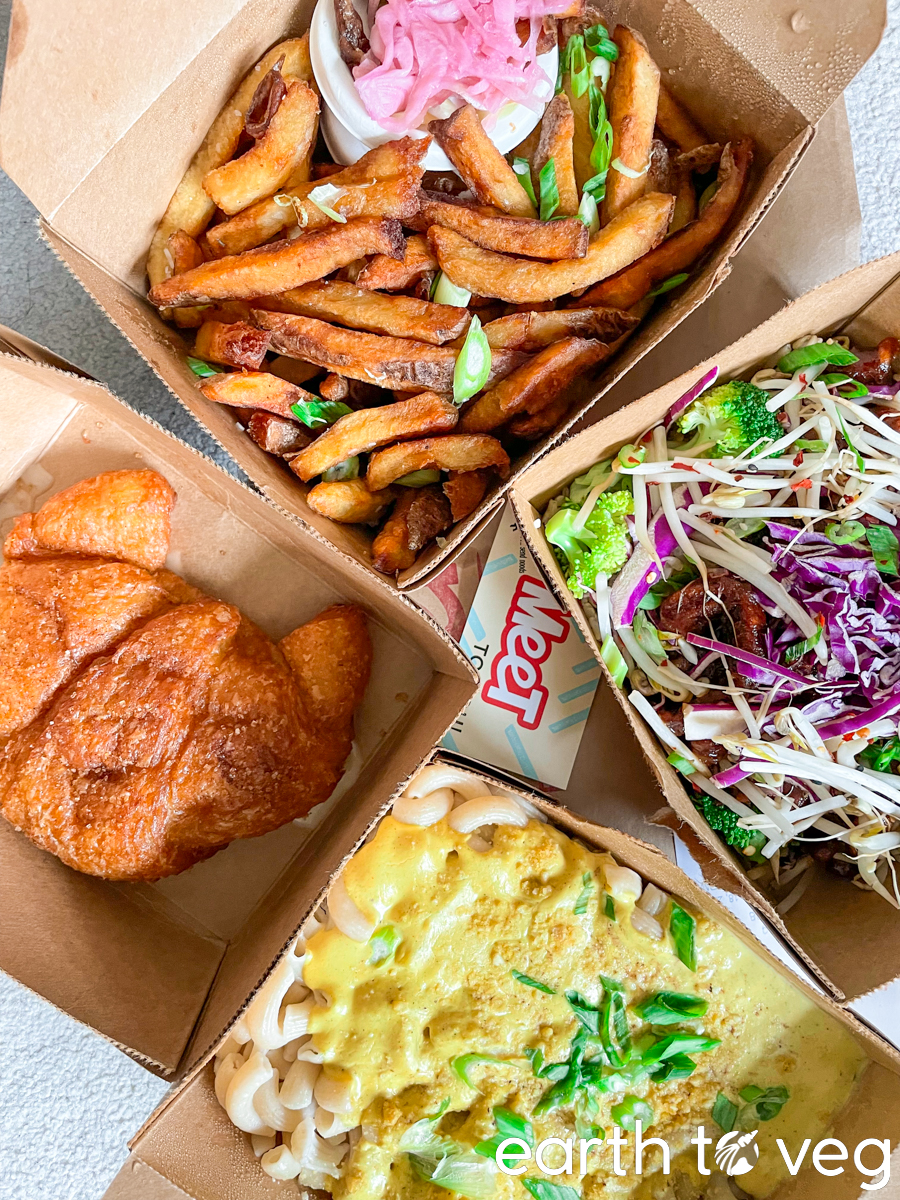 Overall, MeeT is a bit on the expensive side of casual dining. That's to be expected given its prime locations in Vancouver, its ingredients, and its various commitments to community support initiatives. However, both Kevin and I think you get what you pay for.
It's worth visiting at least once, especially if you're vegan. Or is it more worth visiting if you're not vegan? Or is it more worth if you're a vegan bringing non-vegan friends here?

– Kevin, pondering over the deep question of MeeT's target customer demographics
I will eat at MeeT again when I'm next in Vancouver. (Maybe for brunch?!) I think this is the perfect place to bring any non-vegans to show them how tasty vegan food can be. Suggest them to get the Ginger Beefless Bowl and Oyster Mushroom Kalamari!