Aaaand another school term has come and gone. Now that it's winter break, I have time to test new recipes, including a cucumber bread and some Ovaltine cookies.
★ My weekly Food Diaries are a way of tracking what I cook, buy, and eat every day. They provide insight into my eating preferences, allow me to analyze patterns in my spending, and help improve my cooking. And I always share my recipes! ★
Monday
Burrito
I had two back-to-back exams this morning and was not at all in the mood to cook, so lunch today was a burrito from the cafeteria at NRB. (I know it's called CMH now, but I'll never stop saying NRB.)
Usually, I ask for extra cheese in my burritos, but since I'm cutting back on my dairy intake, I didn't get any this time. It wasn't missed at all!
I ate it together with some peppermint shortbread cookies I baked from the freezer. That's right, your girl is eating two-course meals with dessert during exam season.
Gnocchi with Sun-Dried Tomatoes
After the huge burrito for lunch, I wasn't so hungry for dinner. There was a third of a package of gnocchi leftover from last week's gnocchi and mushroom dinner, so I fried that up with some sun-dried tomatoes and garlic for a small, but satisfying, meal.
Ingredients
1 tbsp oil
200 g potato gnocchi
2 tsp minced garlic (2 cloves)
5 sun-dried tomatoes (I used the dry-packed kind)
1/2 tsp kosher salt, or to taste
Instructions
Heat skillet on medium heat.
Add oil to the skillet and swirl around to cover the pan.
Add gnocchi to the pan and fry for 3 minutes, or until golden brown on the bottom; flip and do the same for the other side. Meanwhile, finely dice the sun-dried tomatoes.
Add garlic, sun-dried tomatoes, and salt to the skillet and fry together for a minute or until the tomatoes begin to get crispy.
As I said, this makes a very small dinner for one. For a more filling meal, double the recipe.
Tuesday
Today I had a brief respite from exams (I've got another on Wednesday and the last one on Thursday). I took the time to clear my mind and do some baking, You guys know my love for old recipes; there's something nostalgic and relaxing about cooking from them.
Golden Carrot Cookies from Betty Crocker's Cooky Book
You guessed it… Another one with carrots!! I'd made carrot oatmeal cookies last week and hadn't cared for them, so I hoped this one from a 1960's Betty Crocker cookbook might yield better results.
Instead of mashing and cooking the carrots, I used my Blendtec to "grate" them into small, fine pieces. (The Twister Jar is perfect for this—it chops the carrots evenly without pureeing them.) I thought this might produce better results because the carrots would be spread throughout the batter.
With how wet the batter was, these are definitely drop cookies. Sadly, I couldn't get them into nice round shapes, nor did they even themselves out after baking. These aren't the most aesthetically pleasing cookies, and, in fact, they aren't the tastiest either. They were a bit bland, tasted too healthy side despite all the butter and sugar, and had a weird texture… too moist and soft on the inside, flaky and scone-like on the outside, with bits of fibrous coconut running through the whole thing.
I should've added some spices (maybe cinnamon, as the recipe poster suggested), or made the orange icing that was part of the recipe. But tbh, I'm willing to write this recipe as a loss right here and not risk wasting more ingredients on it. Overall, it wasn't bad, definitely edible, just not my taste and not something I would make again. I baked about half today, and froze the other half of the dough in a roll to slice and bake later. I will report back on how well it held up to freezing!
Grandma's Oatmeal Cookies
Our second recipe today is a typical oatmeal cookie with one atypical step: it calls for the dough to be rolled into logs and chilled before baking. I made one batch the normal way (shaped into balls and flattened slightly), while the rest I rolled and chilled as the recipe instructed. Aside from using rolled oats instead of quick-cooking oats, and omitting the walnuts, I followed the recipe faithfully.
To be honest, I can't taste a difference between the two methods. Aside from the size difference (I used more dough in the balls so they obviously resulted in bigger cookies), one batch can't be distinguished from the other. The chilled dough took an extra minute to bake, but other than that they were identical.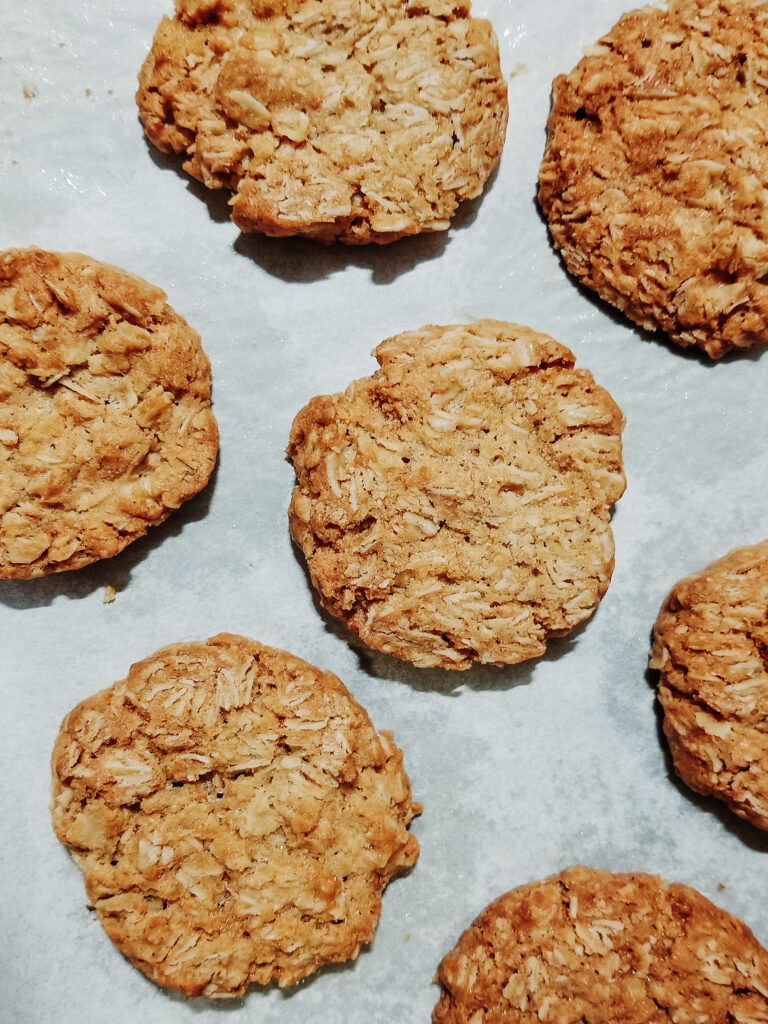 Anyway, these were some yummy, yummy cookies. These aren't your grocery store chewy oatmeal cookies—they're firmer and sturdier, with a high proportion of oats in the batter. The edges are crisp and lightly caramelized, while the center remains soft. Definitely not the same texture as those pliable oatmeal raisin cookies we're all used to. I'm glad the recipe makes a lot, at least 36 cookies I would say. It's a great "slice and bake" dough to have in the freezer for all your cookie emergencies!
(And—I almost forgot to mention—if you want to try something new, take half the dough and mix in 3 tbsp of malted milk powder, aka Ovaltine. It adds an amazing new dimension of flavour to the cookies.)
Thursday
Ovaltine Cookies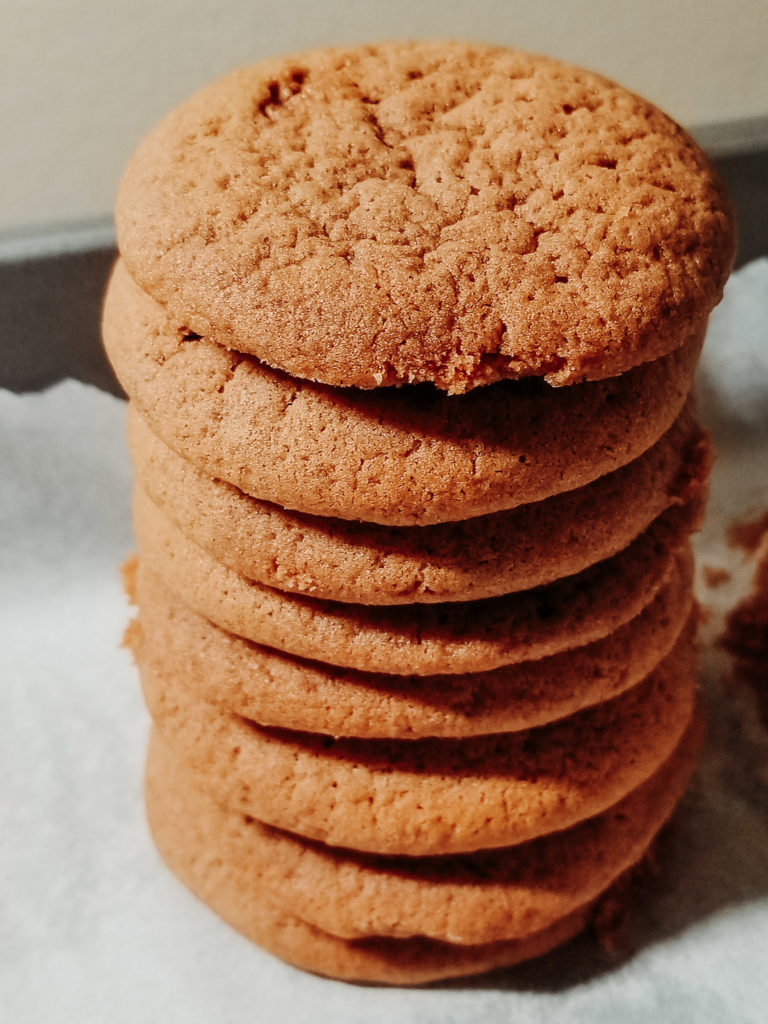 I was inspired by yesterday's successful experiment with malted milk powder to use it in another recipe. This Australia recipe for Ovaltine biscuits uses a lot of the stuff, 150 g, so the flavour is quite concentrated. These are so good! Malted milk is such an addictive flavour in baked goods.
However, next time I'd chill the dough first and then bake for 10 minutes. Baking room temp dough at 8 minutes caused the tops to dry out, while the centers remained slightly doughy and underbaked. In general, the cookies spread out too much for my liking, and chilling the dough should help that.
Malt and Chocolate Chunk Cheesecake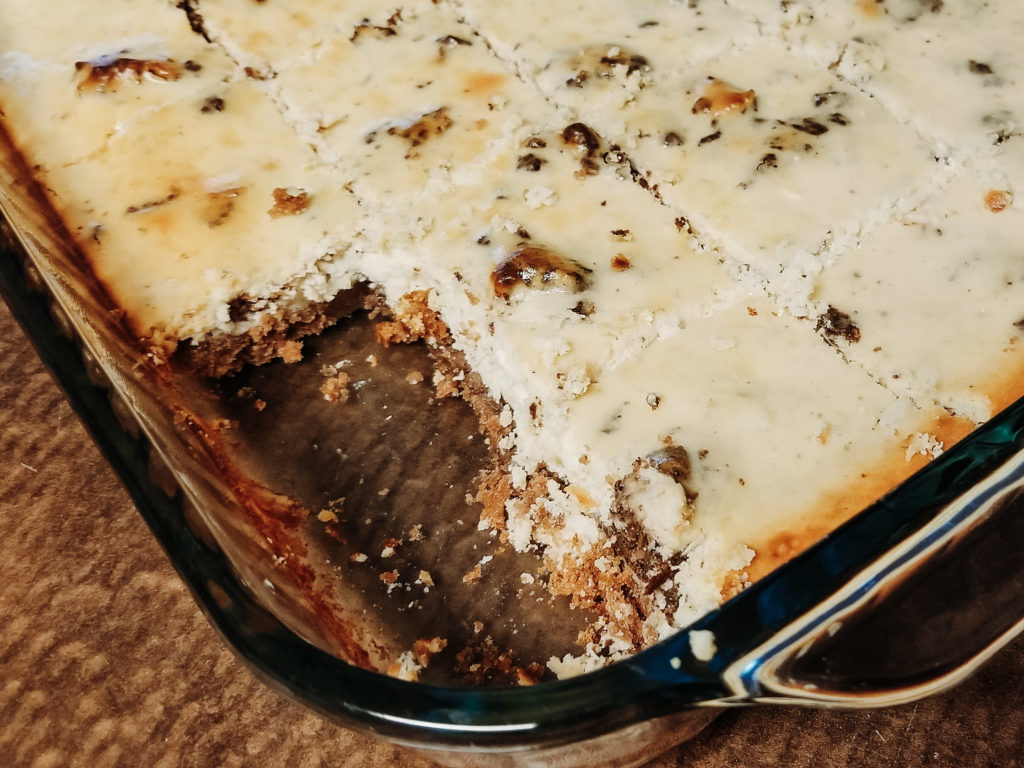 After making half of the ovaltine cookies, I used the rest of the dough as crust for a baked cheesecake. Since Kevin loved the Oreo cheesecake from last weekend so much, I wanted to bring him another one for the upcoming week. I added last week's leftover coconut brownies by chopping them up and mixing in the chunks with the cheesecake batter.
Unfortunately, I overbaked the cheesecake a bit because it was a bit "dry." Or maybe this is a feature of oven-baked cheesecakes vs Instant Pot ones? Kevin could taste the difference, too. From now on, I'll just stick to Instant Pot cheesecakes whenever possible because they're so much harder to mess up!
Friday
Vegan Khao Soi at Sabai Sabai
Today is my last day in Ontario before I fly back to Calgary for the holidays! Sadly, that also means my last day with Kevin until the new year ? We went out to Sabai Sabai to eat together one more time before I had to catch my flight.
Khao soi is Kevin's go-to dish at Thai restaurants, funnily enough, even though noodles are more my thing than his. On the other hand, I've never ordered khao soi anywhere before. It's an amalgamation of two of my fav foods: noodles and curry, so it's quite surprising I haven't tried it until now. Sabai Sabai offers a vegan version of this popular Thai dish, and I was happy to finally eat it here first.
Although the noodles were delicious, I'm beginning to get tired of curries that are sweet and coconut-y, and this was definitely heavy in both sugar and coconut milk. Thai food is one of my favourite cuisines, but honestly, I think I need to take a break for a while for it to regain that WOW factor for me.
Haluski (Pennsylvania Dutch Cabbage and Noodles)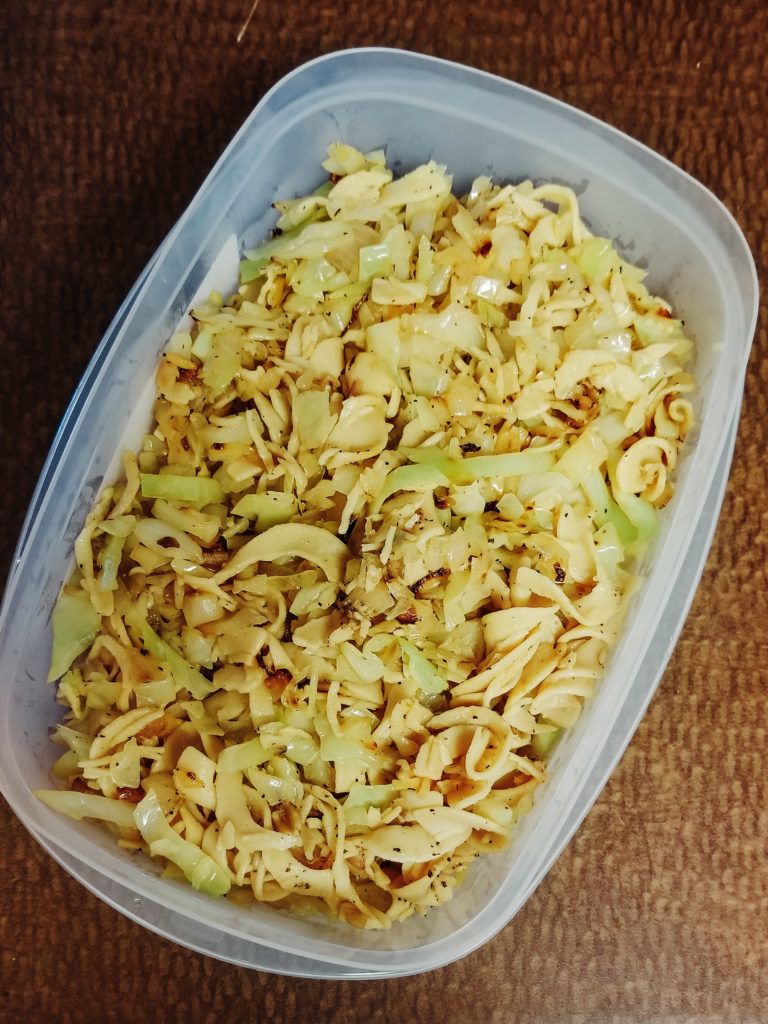 I cooked up one more meal for Kevin next week before I left. This simple recipe only has four ingredients (not including s&p). It was perfect because I had half a head of cabbage and one onion left in the fridge, which I was glad to use up before they went bad during winter break.
Even though I was pretty heavy-handed with the butter, the egg noodles stuck like crazy to my wok!! Somehow, everything I've made in this wok has gotten glued to the bottom… I need to figure that out for next term.
Anyway, I will update this post once I get feedback on how it tastes!
Saturday
Spanish Tortilla
197 cal / slice
Landed in YYC last night, and this morning we're jumping right into cooking! I'm not too familiar yet with the contents of my parents' fridge, but when I opened it I saw a bunch of potatoes, and "Spanish omelette!" jumped into my head. Well, I mis-remembered, turned out the correct name for it is Spanish tortilla, but close enough.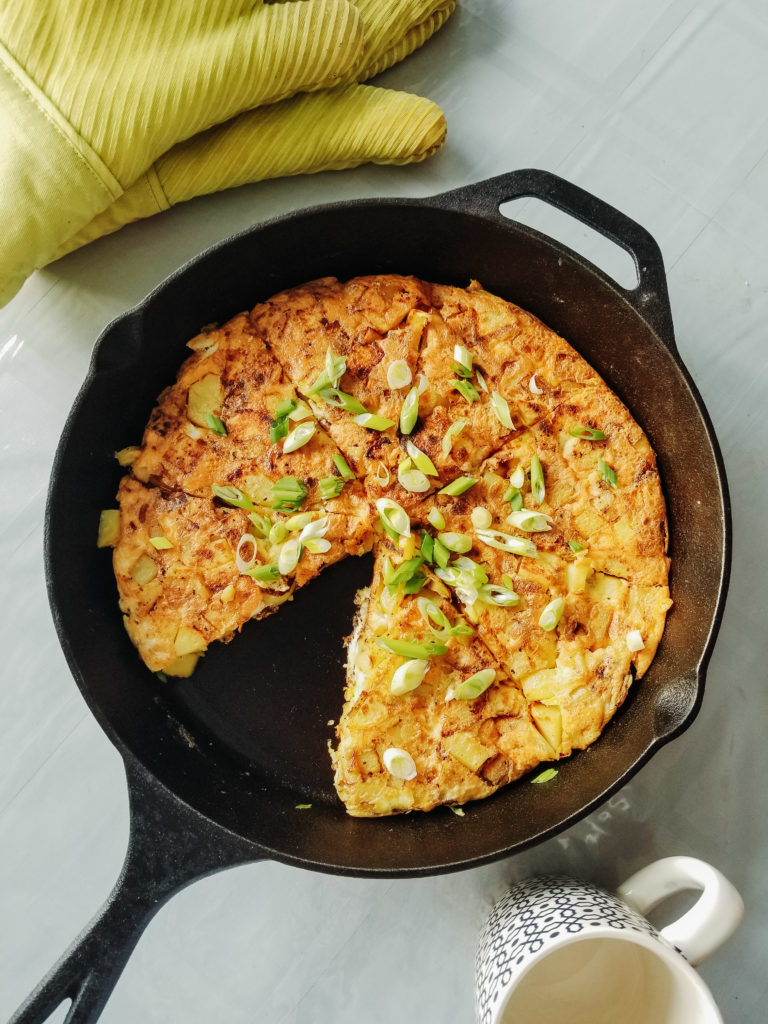 I winged it, since it's a pretty simple recipe. Four potatoes were used for this. Typically, I'd throw an onion in there instead of one of the potatoes, but somehow we didn't have any onions in the house…? (wtf) I diced the potatoes up and tossed them with a good amount of oil on medium heat, salting as I went.
Meanwhile, I whisked together seven eggs with some salt and pepper. When the potatoes were cooked, I poured the eggs into the skillet and turned the heat down to low. When it felt like the eggs should be done, I loosened the edges of the tortilla with a spatula and flipped it onto a plate. (This was the hardest part; that cast iron was f'ing heavy.) At this point, I turned off the heat and let it sit on the stove for a few more minutes, to firm up the other side, before serving.
The omelette tasted good (can something that is 99% potato and egg ever taste bad?), but the texture of the egg was disappointing. I guess I cooked it too long because it was spongy.
Green Bean and Potato "Curry"
For dinner, I made a side of curry green beans and potatoes. I left out the mustard seeds and asafoetida, doubled the turmeric and cayenne, and cooked it on the stove. It was simple and easy to let sit on the stove while I worked on the next dish. Unfortunately, the green beans were old and that made them a bit tough. But it was a decent enough side to our dinner.
Garlic Scampi Pasta
A throwback to this summer's shrimp scampi fettuccine, except this time with shells because that's the only pasta in the house! We also didn't have any lemon juice, so that was foregone. And instead of white wine I used Maotai baijiu… because some alcohol is better than none?!
It was just okay. I definitely under-seasoned it, but luckily my parents are not as picky as my bf is.
Sunday
Today we're visiting both my cousins and grandparents, since it'll be the first time I've seen them in a year. I made two types of breads, a whole wheat cucumber loaf and some apple bread.
Roasted Apple Bread Loaves
The recipe came from King Arthur Flour, but as usual I made a few modifications.
I made the bread the night before, and in the morning I roasted the apples. I didn't use any sugar 'cause health, nor did I use the cinnamon since my parents don't have any. (Just one of the "culture shock" things I experienced upon coming home. How do you survive without cinnamon in the spice cupboard!? I feel really white sometimes.)
Anyway, I sliced the apples into quarters and baked them peel side down for 20 minutes (until the skin started to blacken in places). After they cooled down, I pulled off the apple skins and put the slices into the Vitamix on low speed to finely dice into pieces.
Starting with half of the dough, I spread it out on a floured surface and scattered chopped apple over top. (Note: I actually used two glass lunch containers to bake my loaves. If you are using an actual loaf plan, which is bigger, I would skip the step of splitting the dough in half.) Make sure to dry and dust your hands with flour between each step because this dough is somewhat sticky.
Then drag one end across, nearly to the other end, so you're almost folding it completely over. Then do the same with the other end, so you end up with a burrito shape. Flatten it out a little, and sprinkle on more apples. Then, starting from the top, roll it down to form a fat loaf. Pull the ends a bit to stretch it into an elongated shape, and place in your loaf pan with the seam side down. Notice that I omitted the nuts in the original recipe. No real reason, it was basically because I forgot. I plan on adding some walnuts next time because I think walnuts are yummy in any bread, even if they do jack up the calories!
Because I made two small loaves instead of one large boule, I only baked them for 35 minutes covered (including the preheat time) and 15 minutes uncovered—50 minutes total—for tender bread with an open crumb and a beautiful brown crust. I didn't use an oven thermometer, but there was no gumminess to be seen or tasted! The 1:3 ratio of whole wheat to all-purpose flour worked well. The whole wheat flour helped the crust develop its nice rustic colour, but when you eat it you can't taste the graininess of the wheat at all.
My parents both enjoyed it. My mom mentioned that she never knew apples could be so good with bread! Between the three of us, one entire loaf was gone with a few hours. The only difficulty came from trying to slice it while it was still warm, because we were impatient and hungry. The crust was hard to saw through while the inside was really soft. But if you leave it to cool completely before cutting, this won't be an issue. The other loaf we wrapped up to bring to my cousins' later.
Whole Wheat Cucumber Bread with Tomato
170 cal / slice
While the apple loaves were in the oven, I started on another bread to give to my grandparents. I came up with this healthy concoction through some inspiration, but mostly by winging it. This cucumber bread is sturdy and filling, and holds up well for sandwiches.
Excuse the big-ass cleaver in this photo, it's the only knife my parents own capable of cutting bread properly LOL.
Cucumber Tomato Bread
I don't like the taste of raw cucumbers, so I created a healthy bread recipe to use them up. This whole wheat loaf is sturdy, but not too dense, perfect for a hearty sandwich.
Print Recipe
Use Imperial/Metric buttons below to toggle between volume vs weight measurements. I recommend weighing out your ingredients for best results.
Ingredients
1

large cucumber

300–375 g

3

small tomatoes

160 g

½

cup

water

125 mL

5

cups

whole wheat flour

565 g

½

tsp

active dry yeast

9 g

1 ½

tsp

salt

9 g

assorted dried herbs

optional; leave out for a more neutral-tasting bread
Instructions
Puree cucumber and tomatoes with 1/2 cup water, and any dried herbs if desired. (I used a dash each of marjoram, parsley, and savory, though next time I would leave the savory out and add thyme and rosemary instead. I would have used dill but we didn't have any.)

Add flour, yeast, and salt, to the bowl of a stand mixer fitted with the dough hook attachment, and turn on briefly to mix.

Pour the cucumber mixture into the bowl, and run the mixer on Speed 2 for at least five minutes or until well incorporated, with no dry spots of flour left. You may have to pause to scrape the bowl or stir it manually to help things along. Add more water, 1/4 cup at a time, if it looks dry. The mixture should be quite wet, kind of like a no-knead dough.

Cover and leave to rise for 2–4 hours. I think I rested it for 3 hours? Not too sure of the exact time, but basically let it sit until it's grown to roughly 1.5× in size. It ferments quite slowly due to the acidity of the tomatoes.

Scoop or pour the mixture into two small loaf pans, or one large one. It won't rise too much in the oven, so feel free to pour it 3/4 full. Transfer to a cold oven and let rise again for about 30 minutes, or until it's reached close to the top of the pan.

With loaves inside the oven, preheat to 400 °F and set a timer for 40 minutes. After 40 minutes, check every 10 minutes until crust is browned to your liking.

Cool cucumber bread completely before slicing.
Nutrition
SEND FOOD PICS 📸
Tag @earthtoveg or leave a comment below if you tried this recipe. It makes my day. 😊
The cucumber and tomato taste is very subtle, so if you leave out the herbs, it can be used for sweet as well as savoury applications. Although I store most homemade bread at room temp, this one does pretty well in the fridge. Finally, as my inspiration mentioned:
this loaf is also the perfect solution to the old cucumber sandwich sogginess problem: cucumber in the bread, cream cheese between the bread – tadaah!

Time to Cook – Online
Spicy Chili Garlic Shrimp, Beancurd, and Napa Cabbage Stir Fry
I settled on this recipe at the last minute for dinner, and it really delivered. I used 1 lb of large frozen shrimp, which I defrosted in some hot water (note: only do this to meat if you're cooking with it right away. If you aren't in a hurry, defrost it in the fridge in cold water to prevent bacterial growth). The marinade was easy to whip up, and I added triple the amount of chili garlic sauce to give it more flavour.
While the shrimp sat in the marinade, I sauteed some garlic, ginger, Napa cabbage and beancurd sheets together in a bit of oil. Once the cabbage was starting to develop charred edges, I transferred it out of the skillet and added the shrimp and marinade in its place. The shrimp cooked quickly. I fished them out and added them to the bed of cabbage and beancurd before pouring the reduced marinade on top. Mom said it tasted like a restaurant dish. Yum!
Fish Ball and Cabbage Soup
165 cal / bowl
Since my parents also wanted a soup to go with dinner, I made a simple broth with some frozen fish balls (the hot pot variety). It's a very light dish, so it works great as a side. Of course, you can add more fish balls to make it a proper dinner.
Fish balls can be found in the frozen aisle of any Chinese grocery store.
Fish Ball and Cabbage Soup
A simple broth using frozen fish balls (yep, they're for more than just hot pot) and Napa cabbage. What you end up with is a big pot of comfort soup, the best for winter!
Print Recipe
Use Imperial/Metric buttons below to toggle between volume vs weight measurements. I recommend weighing out your ingredients for best results.
Ingredients
24

frozen or defrosted fish balls

6 per person

half head

napa cabbage

8

cups

water or broth

¼

tsp

black pepper

adjust to your liking

2

tbsp

soy sauce

1

tsp

salt
Instructions
Add fish balls and water to a large stockpot or wok and bring to a boil.

Roughly chop napa cabbage and add to pot, then turn heat down to a simmer.

Add black pepper, soy sauce, and salt, and stir.

Let simmer for 5–10 minutes, stirring occasionally, until cabbage is soft and the texture is to your liking.
Nutrition
SEND FOOD PICS 📸
Tag @earthtoveg or leave a comment below if you tried this recipe. It makes my day. 😊