ORIGINS: Silsi is a spicy, tangy tomato sauce seasoned with berbere, the defining spice of Eritrean cooking. It likely arose out of the mingling of Italian and Eritrean food culture following Italian colonization at the turn of the 20th century.
Silsi (Eritrean Tomato Sauce)
Put an Eritrean spin on meals with silsi, a spicy tomato sauce seasoned with berbere. Perfect if you want to bring some extra heat into your tomato recipes!
Servings:
4
servings (1/2 cup each)
Ingredients
1/4

cup

sunflower oil or other neutral oil

50 g; see Note 1

1

large red onion or 2 small

300 g

1

carrot

100 g

1

jalapeño pepper

20 g *optional

1–2

tbsp

berbere seasoning

see Note 2 for recipe

1

tbsp

tomato paste

15 g

1

large tomato or 1/2 can diced tomatoes

400 g

1/2

head

garlic

25 g

1/2

tsp

fine salt or 3/4 tsp kosher salt

3 g

1/2

tsp

black pepper

1

tbsp

lemon juice

15 g *optional
Instructions
Dice onion, carrot, and jalapeno pepper (alternatively, pulse together in a food processor). Add to a saucepan on medium heat along with the oil, and saute for around ten minutes or until the onions are lightly caramelized.

Meanwhile, chop the tomato and mince the garlic (or pulse together in a food processor).

Add berbere seasoning and tomato paste to the saucepan and saute for another minute, then add the chopped tomato and garlic, along with salt and black pepper.

Lower the heat and simmer, uncovered, for 30–45 minutes, stirring occasionally to prevent sticking and burning on the bottom.

When the tomatoes have broken down and the sauce is a nice thick consistency, remove from heat and squeeze in lemon juice.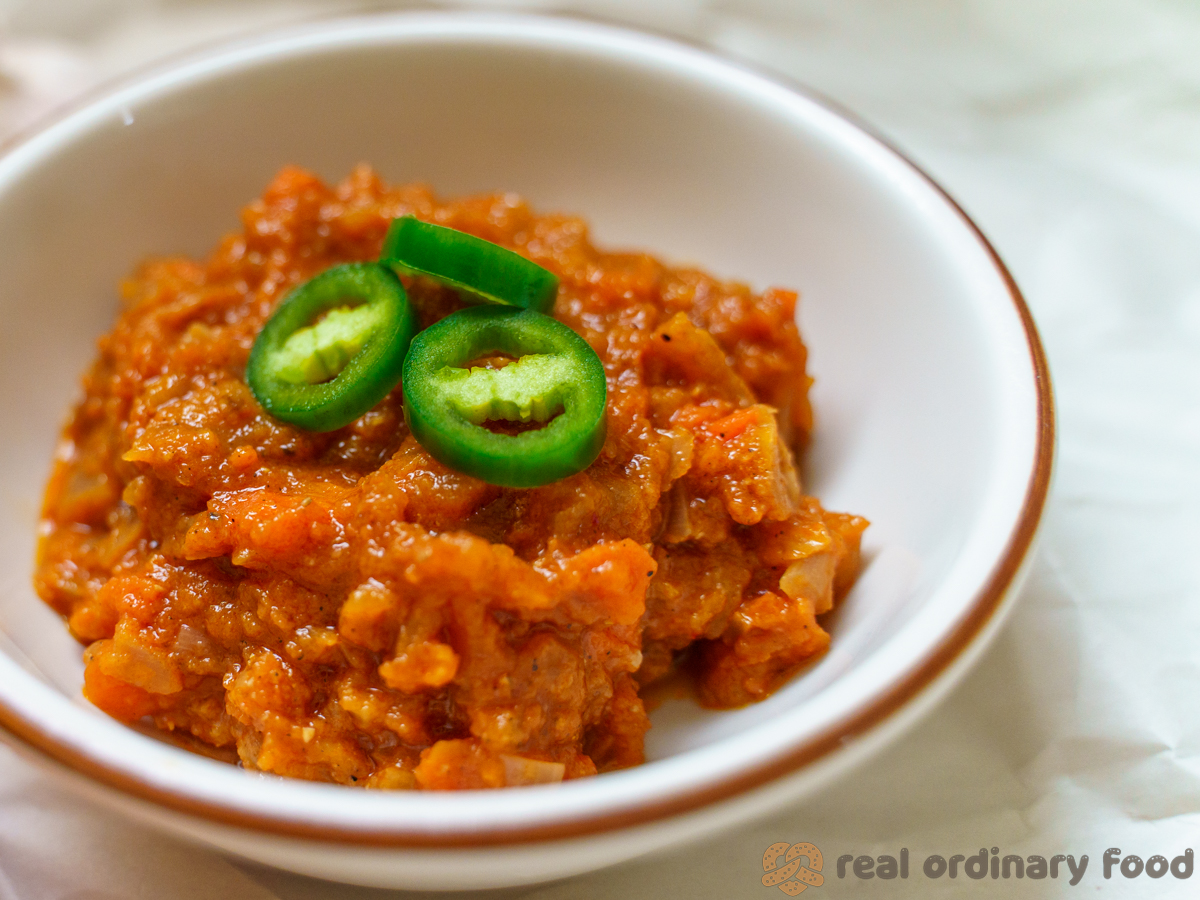 Recipe Notes
I don't remember where I read this, so take it with a grain of salt, but apparently sunflower seed oil is the most popular cooking oil available in Eritrea. Any neutral-tasting oil is fine for this recipe.
Berbere seasoning is a ubiquitous spice blend in Ethio-Eritrean cuisine. If you plan on doing any Ethiopian or Eritrean cooking, it's an absolute must-have. For more information on this seasoning and a recipe for making it at home, click here. Use 1 tbsp berbere for a slightly milder sauce. Use 2 tbsp for spicier and more intense flavours.
How to Use Silsi
Silsi is like any thick tomato sauce but with a more flavourful kick. You don't have to limit yourself to Eritrean recipes when using it: it works well in this Afghan eggplant casserole or over this spinach pici pasta. You can even dollop a few spoonfuls into this Turkish lentil soup or this okra chickpea stew.
I've even eaten it cold, dipping into it with leftover injera scraps—apparently, silsi is regularly enjoyed for breakfast in Eritrea. What I'm saying is, try adding it to whatever tomatoey recipe you're making, and you can't go wrong. Below are a couple of classic Eritrean recipes that use silsi:
Pasta al Sugo e Berbere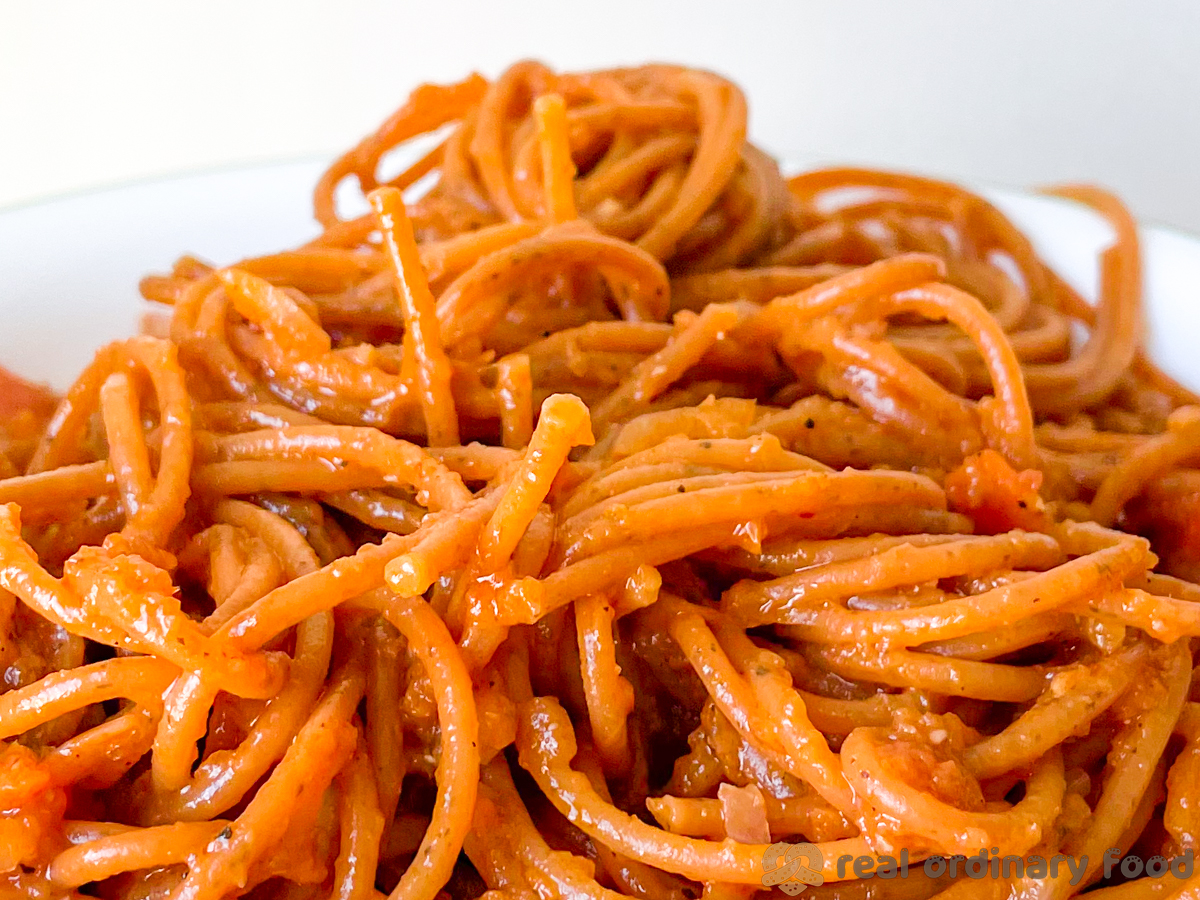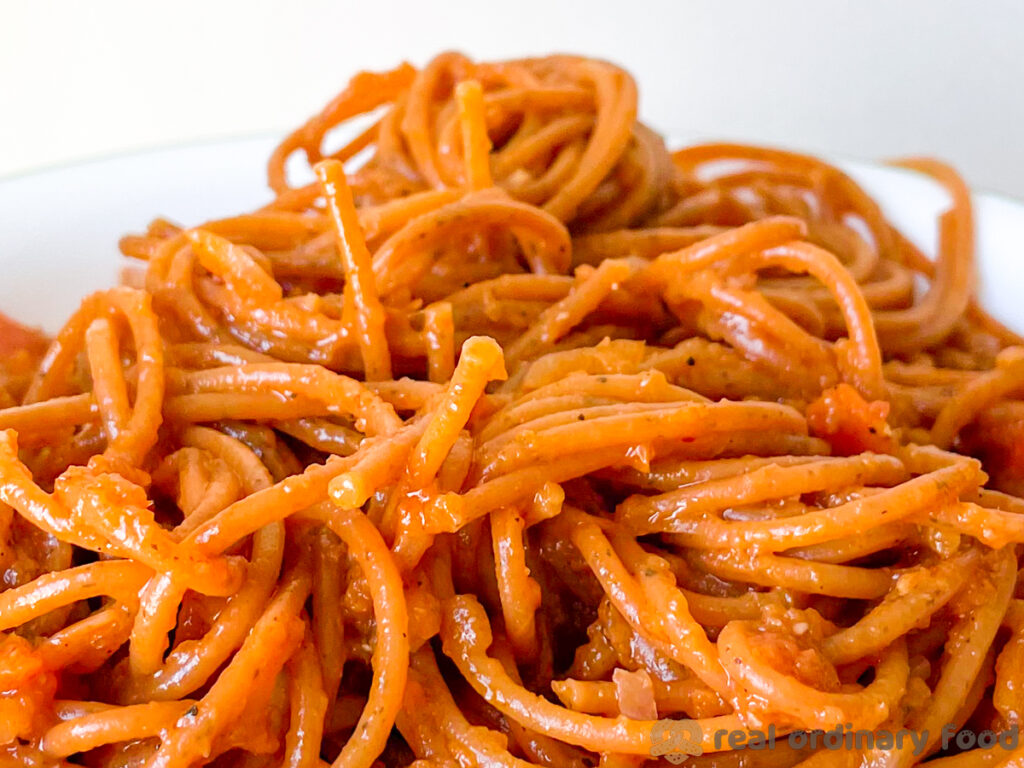 As residents of a former Italian colony, Eritreans eat loads of pasta. Pasta al sugo e berbere is a prime example of Eritrean-Italian fusion cuisine: it's basically spaghetti tossed in a Bolognese sauce that's seasoned with berbere. You can use silsi in place of tomato sauce in pretty much any pasta recipe, as they do in Asmara, the capital of Eritrea.
For this meal, I cooked 75 g of Catelli Smart® spaghetti in just enough water to cover, then stirred in 3/4 cups of silsi.
Eritrean Fata (ፋታ)
Fata (ፋታ in Tigrinya) is an Eritrean lunch specialty that is somewhat similar to the Italian panzanella salad. But instead of fresh sliced tomatoes, it uses warm silsi sauce. The full name of this dish is "fata mis celeste banee," which means "fata with three bread." It's as simple as tearing up three crusty bread rolls into a bowl and dousing them in silsi. To be extra #fancy, you can top it with some yogurt (I used Silk soy yogurt) and jalapeño peppers.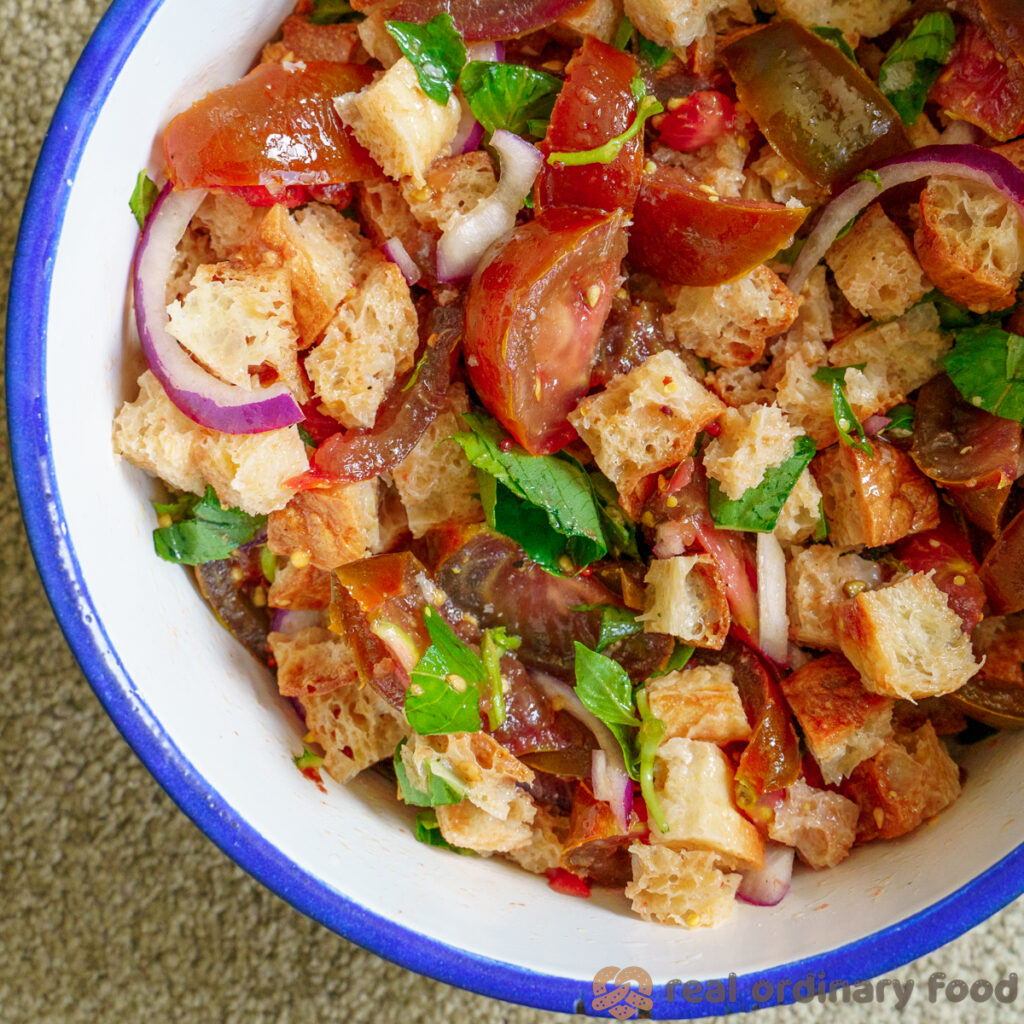 Ngl, I enjoy fata way more than panzanella. Maybe that's because this is less salad-like to me, and you know I'm biased against salads!
Italo-Eritrean Cuisine
For over half a century in the not-so-distant past, Italy colonized various parts of Eritrea. The former has left its mark on the latter in many ways, not least of which is food. (In fact, Eritrea's traditional dishes can be roughly classified into three cultures: Muslim, Orthodox Christian, and Italian.) But this relationship goes both ways, as Eritrean cuisine has gained footholds in Italy as well. Tomatoes and pasta are two staple foods that were popularized by Italians in Eritrea.
I couldn't find many sources on the origins of silsi, but this source implies that it came about following Italian colonization. That makes sense to me given its similarity to Italian tomato sauce recipes. But if you know more about silsi's history, please share it with me and I will update this post.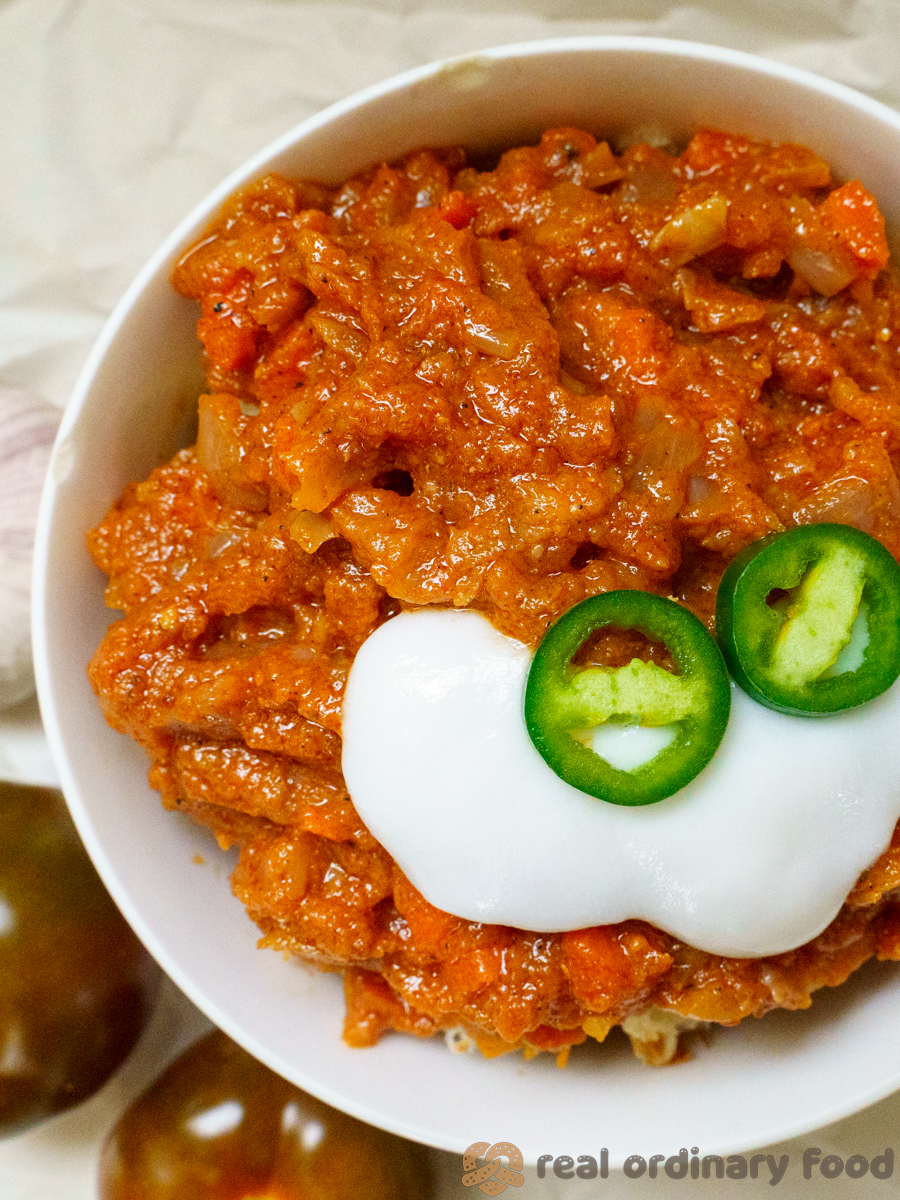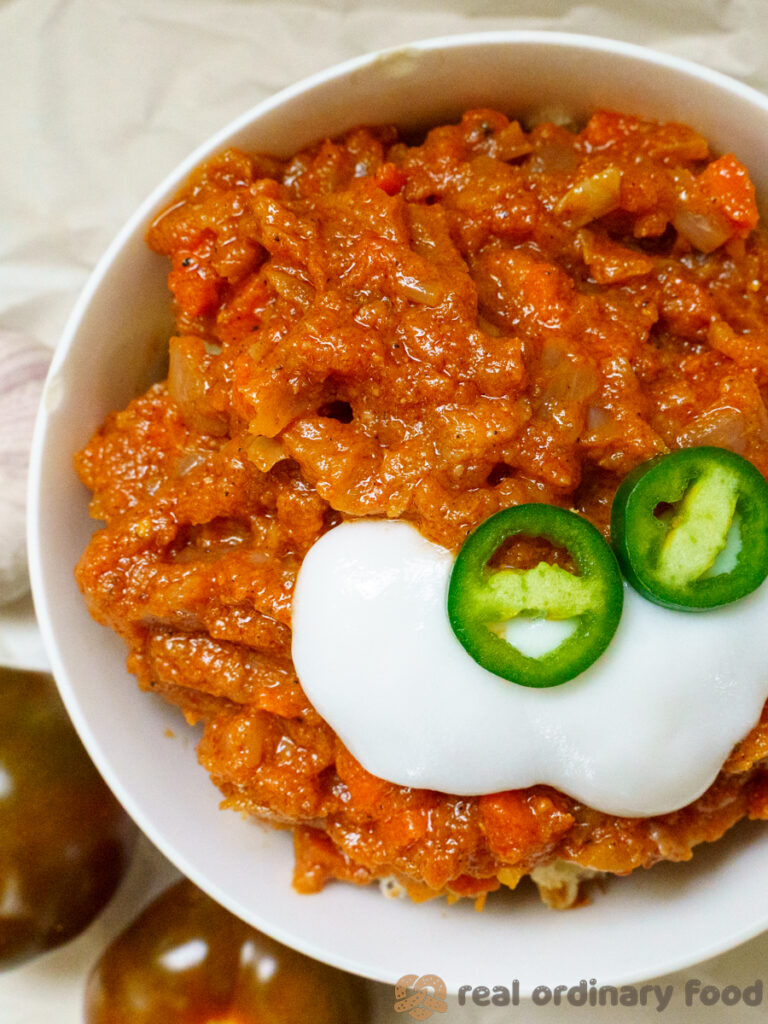 How are you using silsi in your cooking? I'd like to hear about your creations, so comment below with what you've cooked up!
Nutrition, Cost, and Emissions Information
Each 1/2-cup serving of Eritrean silsi is 185 cal, costs $0.67, and releases 378 gCO2e of carbon emissions into the atmosphere.
Calculation for full recipe as written (4 servings):
Feel free to contact me for sources on the nutritional and carbon emissions information presented here. Note that I am not a nutritionist and guidelines on this page are provided for informational purposes only.