Serve a wholesome homemade pumpkin pie for Thanksgiving. Made from scratch using Japanese pumpkin (also known as kabocha squash) and coconut milk, this pumpkin pie filling is nice and simple. Vegan, with no dairy, no oil, no weird ingredients. Just pure pumpkin goodness!
History & Origins
Although pie originated in the Old World (it dates back to Ancient Greece!), pumpkin pie has American roots. That's because pumpkins are native to North America.
When explorers brought pumpkins back to Europe in the 17th century, England produced the first variant of pumpkin pie. This pie used whole slices of pumpkin layered with apples, spices, and sugar; basically a regular apple pie with some pumpkin throw in.
In 1651, Francois Pierre la Varenne, a French chef, published a cookbook containing a recipe for "tourte of pumpkin" which involved a creamy pumpkin puree in a pastry shell:
Boile [pumpkin] with good milk, pass it through a straining pan very thick, and mix it with sugar, butter, a little salt and if you will, a few stamped almonds; let all be very thin. Put it in your sheet of paste; bake it. After it is baked, besprinkle it with sugar and serve.

Francois Pierre la Varenne, Le Vrai Cuisinier Francois (translated from the French)
But the familiar pumpkin pie we know today—with a thick, rich filling and plenty of spice—was first documented in a cookbook called American Cookery by Amelia Simmons. This was the first all-American cookbook, written in America by an American, and it included two "pompkin" recipes:
No. 1. One quart [pumpkin] stewed and strained, 3 pints cream, 9 beaten eggs, sugar, mace, nutmeg and ginger, laid into paste … and with a dough spur, cross and chequer it, and baked in dishes three quarters of an hour. No. 2. One quart of milk, 1 pint pompkin, 4 eggs, molasses, allspice and ginger in a crust, bake 1 hour.

Amelia Simmons, American Cookery
It is also believed that the Pilgrims were gifted pumpkins by the native Wampanoag tribe they encountered at Plymouth Colony. A crustless version of pumpkin pie, baked right in the hollowed out pumpkin shell, was served at the first Thanksgiving dinner in 1621.
Veganizing Pumpkin Pie
As you can see, even the earliest versions of pumpkin pie contained dairy and eggs. So my biggest concern was finding a replacement for those things while still keeping the recipe simple and accessible.
I also wanted to make a version without any canned pumpkin puree. Nothing wrong with the canned stuff, but squash and pumpkin are so cheap and plentiful this time of year. It's the perfect opportunity to make a pie with fresh squash.
For pie #1, I used soy milk, cornstarch, and agar to replace the dairy and eggs, inspired by Isa Chandra Moskowitz's recipe for pumpkin pie. Unfortunately, it began to crack once I brought it out of the oven to cool.
For pies #2 and #3, I upped the soy milk slightly and baked for a shorter time. I also let the pies cool fully in the oven after baking instead of taking them out right away. Pie #2 was full of cracks by the end of baking. Pie #3 looked pretty good at first, smooth with no cracks, but the cracks formed as it cooled down. I decided to do away with the agar for future trials since it wasn't giving me the creamy texture I was looking for, plus it might be hard to find in stores.
For pies #4 and #5, I used a kabocha squash instead of pumpkin. I used vanilla coconut yogurt instead of soy milk and didn't add any cornstarch or agar. One pie, I used peeled squash chunks while the other, I left the green skin on (since kabocha skin is edible and has lots of fiber). Since I didn't plan to bake them right away, I froze these pies unbaked. Before baking, I thawed them in the fridge for 10 hours before baking, then left them in the oven to cool down slowly. No cracks!! Interestingly, the pie with the peeled squash filling turned a darker brown and developed a dried-out, rubbery "skin" while the filling containing kabocha skin didn't have this problem. However, the flecks of green skin here and there throughout the pie did not look appealing.
Pie #6: Since leaving out the cornstarch and agar didn't have any negative effects, and the coconut yogurt had worked well as a sub for soy milk, I repeated the same ingredients. I used skin-on kabocha squash again but this time I blended the mixture for longer, until the puree was totally smooth and no green skin could be seen. I will say that the only downside to using the skin in the recipe is that it results in a brown-ish baked pie, instead of the vibrant orange you'd expect.
The final pie of this experiment (for now!) was #7. I experimented with using canned coconut milk instead of coconut yogurt, and it was even tastier! The coconut milk adds more fat content to the pie filling, resulting in a creamy luscious mouthfeel.
Step-by-Step Process
First, you'll need an unbaked pie crust. (No need to blind-bake for this recipe.) Use your favourite pie crust recipe, such as my Stand Mixer Pie Crust, or a storebought pie shell. If using storebought, make sure to read the ingredients carefully because many vegetarian pie crusts still contain dairy like milk or whey powder.
Next, you'll want to cook some kabocha squash, also known as Japanese pumpkin. This recipe relies on the natural starchiness of kabocha squash to hold it together. Kabocha is drier and starchier than other squash and pumpkin varieties, which is why only a single tbsp of cornstarch is needed to set the filling. But that also means no substitutions for this ingredient!! I'll test this recipe in the future with other types of pumpkin to see if it still works, but for now I can't guarantee success with anything other than kabocha squash.
To cook kabocha squash, the easiest way is to chop it in half, scoop out the seeds and stringy guts, and steam it until falling-apart soft. This depends on the size of your squash but can take 45 minutes to an hour. You can also roast it by putting the two halves face down on a lined roasting pan and baking at 400 °F for 45 minutes. I prefer steaming, though, because it allows you to eat the skin too. Kabocha skin is edible and full of fiber!
Meanwhile, preheat your oven to 350 °F.
Once cooked, slice kabocha into large chunks (no need to peel) and add the pieces to a blender. Also add the rest of the ingredients: brown sugar, coconut milk, salt, cornstarch, and optional pumpkin spice (see Notes for a homemade recipe). I don't prefer to add pumpkin spice, actually, if I'm making this pie for myself and family. I personally love to savour just the simple taste of coconut and kabocha squash together in this pie.
Blend it all up until super smooth, then pour it into the pie crust. Yes, it's that simple!!
The mixture is thick and prone to cavitation (forming air bubbles around the blender blades), so you might have to stop the blender and stir a few times to get it going again. If your blender comes with a tamper (eg. Vitamix), that will come in very handy.
Smooth out the filling and bake it on the middle rack of your oven for 30 minutes. The recipe makes enough for a 10-inch pie, but the beauty of this egg-free pumpkin pie filling is that it's totally safe to eat unbaked. So if your pie pan is only 8 or 9 inches, just fill it up and then eat the remaining bit of pie filling with a spoon! Or put it in oatmeal, or blend it into a smoothie, or add it to your next batch of bread… whatever you want, really. It's delicious.
Once 30 minutes is up, turn off the oven but don't take the pie out yet. This is important: let it cool fully inside the oven. This might take up to four hours. Once the pie has cooled down to room temperature, remove it from the oven and place in the fridge to chill fully, another four hours (or overnight).
Mini Crustless Pies
You can turn this recipe into single-serving crustless pumpkin pies! This is a super quick and easy alternative if you don't have a pie crust ready. If you've got some small ramekins or cocottes, you can fill them with the pie filling. (A brie baking dish would also do the job.) My ramekins are 3-inch diameter which are perfect for baking 6 mini pies. I baked them for 30 minutes, left in the oven to cool fully, then dusted them over with some powdered sugar.
Make Ahead & Storage Tips
Fridge: Vegan pumpkin pie should be kept in the fridge because coconut milk spoils at room temperature. Also, because pumpkin pie simply tastes better cold! It can be refrigerated for up to 5 days.
Freezer: The pie can be fully assembled up to right before the baking stage, then frozen for up to three months. To bake, thaw in the fridge overnight (at least 10 hours) then bake as usual. You may need to add additional 5–10 minutes. I have not tried freezing cooked pumpkin pie yet, but it should be okay. Let me know if you tried freezing it.
FAQ
Can I substitute cooked kabocha squash with canned pumpkin puree?
I have not tested this recipe using canned pumpkin puree. Most recipes that use pumpkin puree use lots of cornstarch, flour, or agar to help thicken it up. This recipe relies on the natural starchiness of kabocha squash to hold it together. If you would like to attempt this substitution, please proceed at your own risk.
Can I substitute kabocha with another type of pumpkin or squash?
Kabocha squash is drier and starchier than other pumpkin varieties which helps bind the filling. You would need to add more cornstarch or similar if you want to replace the kabocha with something else.
How do I prevent my pie from cracking?
Pumpkin pies crack due to a variety of reasons: baking too long, oven was too hot, filling mixture was too dry, cooling down too fast, etc. The surface of the pie dries out and shrinks as it cools, leading to cracking. One safeguard against cracking is to let the pie cool in the oven. When the 30 minutes of baking is up, turn off the oven but don't take the pie out. Let it cool gradually—this could take as long as 4 hours—until it is room temperature. Then take it out of the oven and put it in the fridge to chill fully. This almost always prevents cracks in my experience. But if your pie still cracks? Well, coconut whipped cream or some artfully-placed leftover pie crust cut-outs(link) can cover all manner of sins.
Recipe Card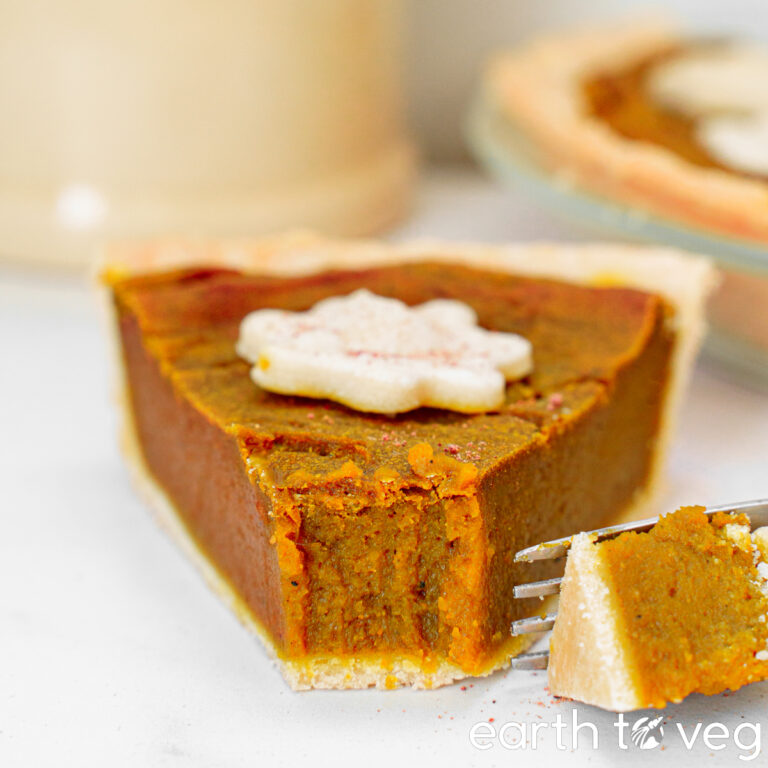 Coconut Milk Pumpkin Pie
This silky smooth coconut milk pumpkin pie is made with kabocha squash (Japanese pumpkin). Dairy-free, soy-free, and vegan. Just pure pumpkin goodness.
Print Recipe
Ingredients
1

recipe

Stand Mixer Pie Crust

or you can use a storebought pie shell

1½

cups

cubed kabocha squash, cooked

300g; see Note 1

½

cup

brown sugar

100g

½

can

coconut milk

200g; see Note 2

4

tbsp

cornstarch

30g

2

tsp

pumpkin spice

*optional; see Note 3 for homemade recipe

½

tsp

table salt or 3/4 tsp kosher salt

3g
Instructions
Roll out the pie crust onto a 9-inch pie pan. Preheat oven to 350 °F (180 °C).

Add pie filling ingredients (kabocha squash, sugar, coconut milk, pumpkin spice, salt) to a blender.

Blend on high speed until smooth. The mixture is thick so you may have to stop the blender and stir it a few times to get it fully blended.

Bake 45 minutes at 350 °F (180 °C) on the middle rack. Turn off the oven and leave pie inside for an additional 10 minutes.

Let cool completely before slicing.
Notes
I have not tested this recipe using canned pumpkin puree or other varieties of squash. If you would like to attempt this substitution, please proceed at your own risk.
Use a full-fat coconut milk, the type that comes in a can, not the ones used for drinking. If your pumpkin is starchier than usual, the blender mixture may get very thick, in that case add an additional 1/4 can (100g) of coconut milk to help it blend smoothly.
The following spice mix makes 2 tsp of pumpkin spice, just enough for this recipe. Adapted from Understanding Food by Amy Brown:

1 teaspoon ground cinnamon
1/2 tsp ground nutmeg
1/4 tsp ground cardamom
1/8 tsp ground allspice
1/8 tsp ground ginger
Nutrition
Nutrition, Cost, and Emissions Information
Assuming you cut this coconut milk pumpkin pie into 8 slices, each slice is 326 cal, costs $0.44, and releases 87 gCO2e of carbon emissions into the atmosphere.
To reach the global Paris Agreement emissions target, it's recommended to limit daily carbon emissions from food to 3,050 kgCO2e/day per person.
Nutrition data is provided by Cronometer (click the link at the bottom of the nutrition label to learn more). Feel free to contact me for sources on the cost and carbon emissions information presented here. I am not a nutritionist and guidelines on this page are provided for informational purposes only.