Now that the dates for Taste of Calgary 2023 have been announced, I wanted to put together this guide that summarizes all the vegan/plant-based menu options you can look forward to. Although festival organizers have posted menus with "V" labels, not only do they not distinguish between vegan and vegetarian options (with many V items containing eggs and dairy), many of them are straight up wrong. Lots of vendors have V next to items that contain meat, which makes it all the more confusing. This guide will clear things up and show you every vegan-friendly option at the festival this year.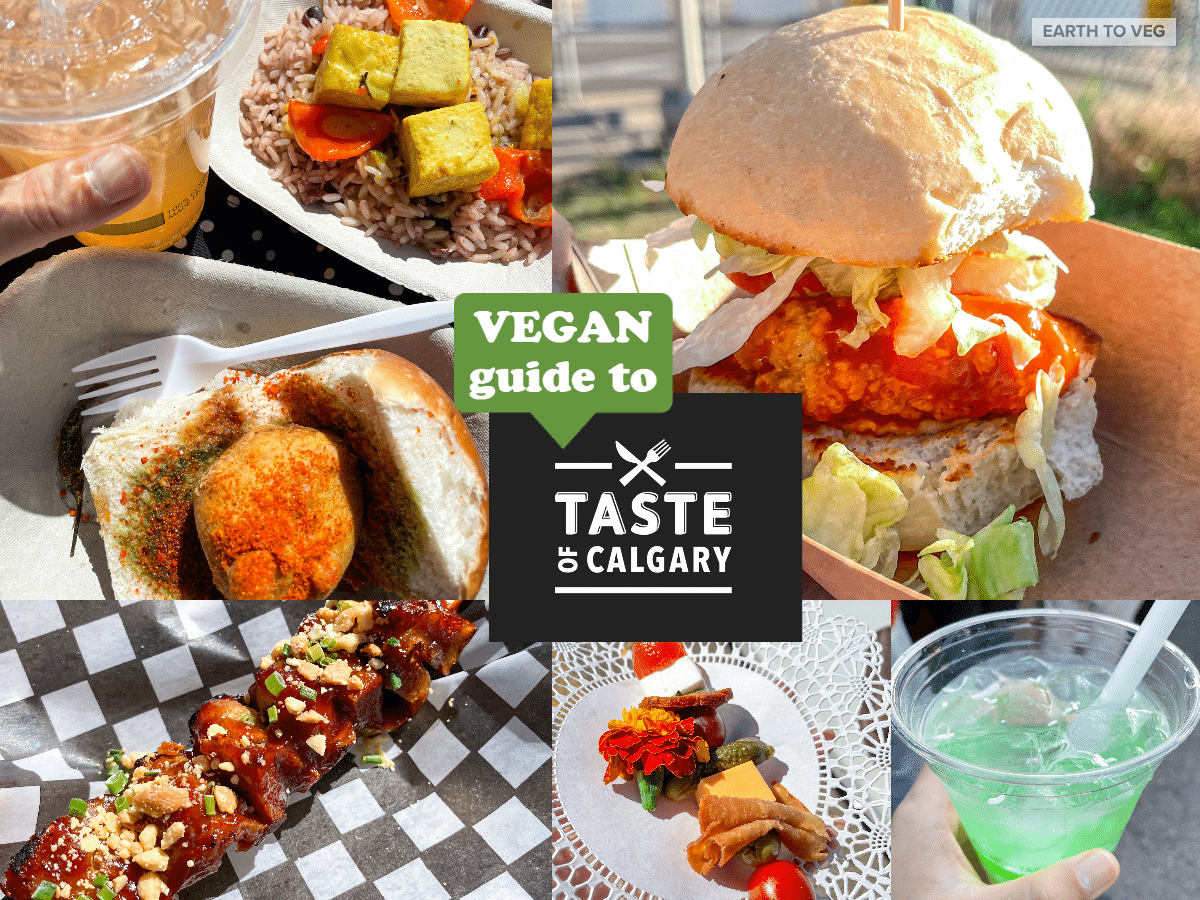 Note: I posted an earlier version of this guide on the Calgary Vegans/ Vegetarians Facebook group. During the actual festival dates, I'll be sure to nip down to taste some of the vegan options and update the post with my reviews.
Restaurants
There are ten restaurants with vegan options at Taste of Calgary, including two completely plant-based restaurants. (Note that you buy food at this festival using tickets which can be purchased for $1 each.) In alphabetical order:
Amitea & Sub
The only vegan choice at Amitea & Sub is the Mango Peach Drink which will cost you 6 tix.
Arepa Boss
The Veggie Bomb arepa is made with beans and will cost you 6 tix.
Brie and Banquet
Brie and Banquet is a charcuterie-focused catering company, but they typically have at least one vegan-friendly option available. This year's offering is a Loaded Veggie Sandy for 6 tix, which features "our famous dill pickle hummus, pink onion bun + farm fresh veg."
(For reference, here's last year's vegan showing: Vegan Grazing Table on a Stick for 6 tix. I appreciated the effort to offer a vegan option but this was pretty meh. The vegan cheeze that was used tasted like generic block daiya, and isn't really the sort of thing you'd want on a charcuterie board. 2/5 stars.)
Golden Kway Teow Palace
To be clear, there are NO vegan options from this vendor this year, even though misleadingly three items on the menu are labelled V (they all contain meat).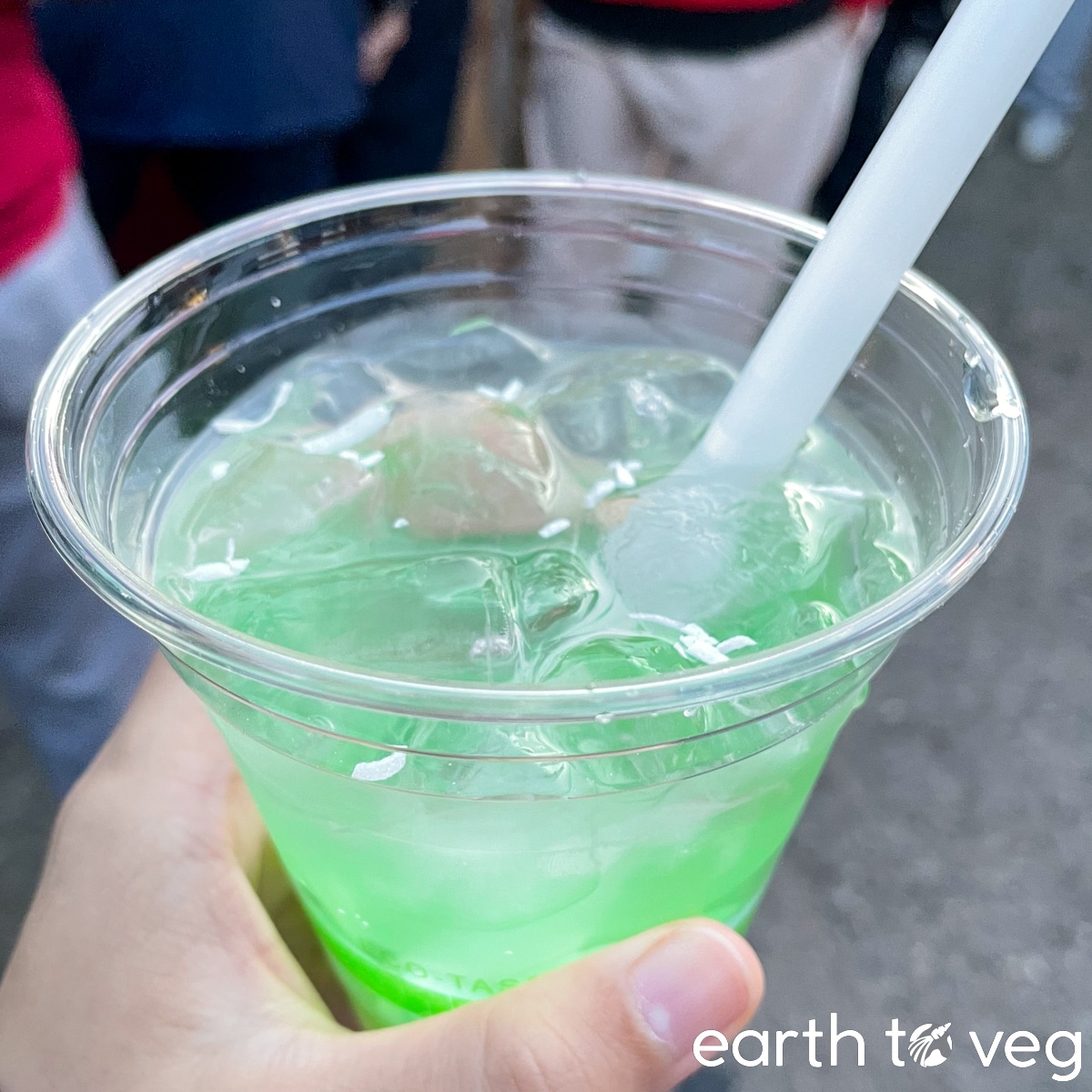 Which is really disappointing because last year they had a vegan Lychee Coconut Water with Pandan Jelly for 5 tix. (It wasn't very good, to be fair, too sweet and too many flavours going on. I was excited for this one because I love pandan, but I could barely taste it because of the overwhelming lychee flavour. Also, there was way too much ice for a small drink, it was in no way worth 5 tickets. 3/5 stars.)
The Halal Guys
The Falafel Platter (5 tix) and Hummus (3 tix) are both vegan, however, be sure to ask them to omit the white sauce from the falafel platter as it contains egg.
Kitchen Lizard
The only vegan menu item from Kitchen Lizard this year is Watermelon Agua Fresca (6 tix). Side note, I'm slightly irritated that their menu has a V label next to their "Smoked Ham Brioche Roll" item. I mean, smoked ham, really? Not plant-based or vegetarian in any conceivable way.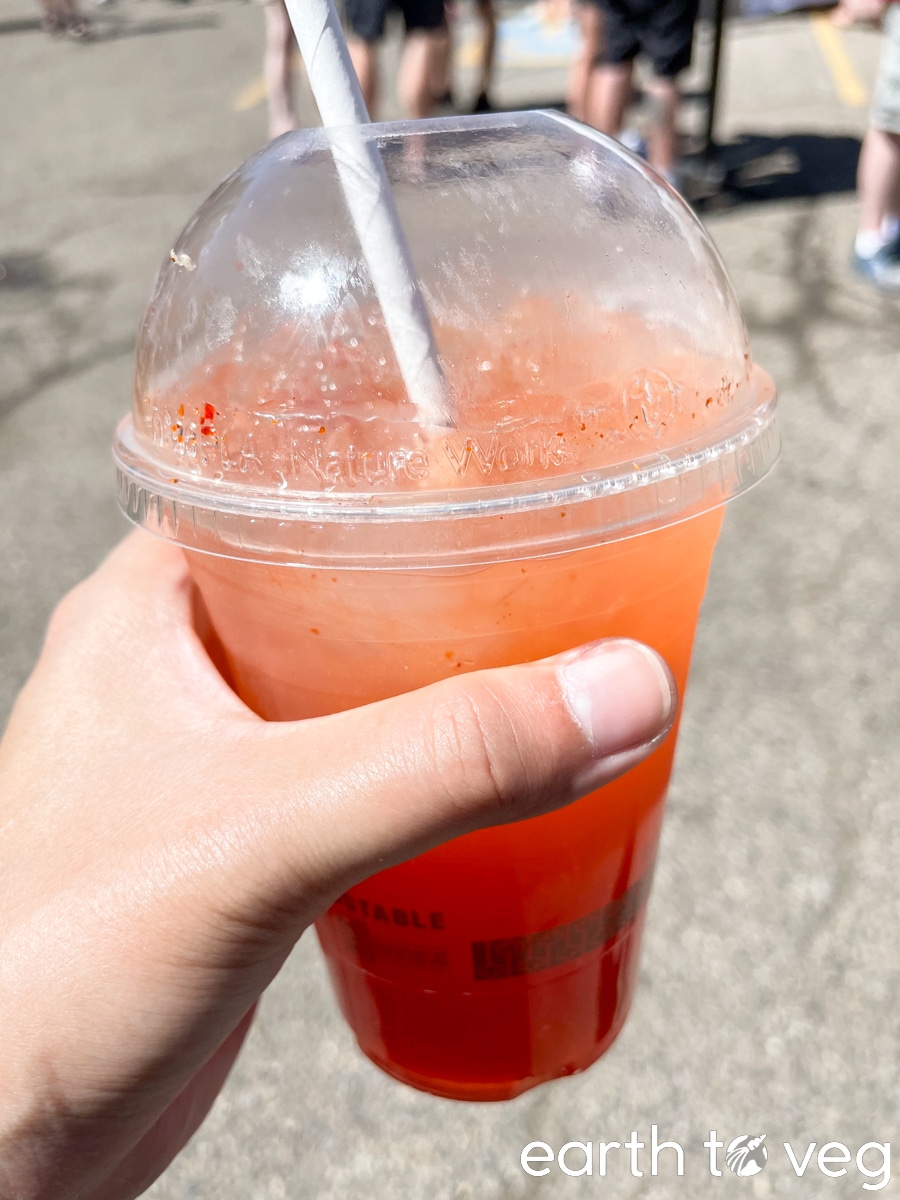 (Last year's vegan item from this food truck was the Passion Fruit Lemonade with Tajin for 6 tix. Needed more tajin, I could not taste it at all. It was very refreshing though despite being slightly bitter—I think there was some grapefruit in there. 3/5 stars.)
Mama Dessert
Mama Dessert is a newcomer to Taste of Calgary this year, and the good news is they have four different vegan drinks on offer! All of the items labelled with a V on their menu are fully plant-based and 5 tix each:
Champagne Grapes Fruit Tea
Kiwi White Grapes Fruit Tea
Pinky Fruit Tea
Hawaiian Delight Fruit Tea
Odd Burger
A wholly plant-based restaurant has joined Taste of Calgary this year!! Everything on Odd Burger's menu is 100% vegan. They have four items to offer at the festival this year:
Famous Slider (6 tix)
Wingalings (7 tix)
Tater Tots (3 tix)
Tater Tots Al Fresca (5 tix)
Below is a box of Famous-Style Fries and the Famous Burger that I ordered a while back from Odd Burger's permanent location on 14th Street. I would expect the Famous Slider to be a smaller version of the Burger with the same patty and topping ingredients.
Pure Street Food
Pure Street Food, which was renamed from Pure Modern Asian, has two vegan beverages on offer for this year's festival:
Passion Fruit Tea (6 tix)
Iced Coconut Refresher (5 tix)
(Below is a pic of last year's Cantaloupe Juice for 3 tix. It was simple and refreshing, just sweet enough, and the slices of grated cantaloupe gave the drink some nice texture. Not too shabby for the price either. 4/5 stars.)
Simply Irie
This year, Simply Irie has a Jerk Tofu on offer as their vegan option, costing 6 tix.
(This is pretty similar to last year's Curry Tofu which costed 7 tix. The rice was good and so was the curry, but the tofu chunks were pretty bland. Portion size was small considering the price. 3/5 stars.)
I'm surprised that this year's offering costs less tickets than last year's, but am a bit concerned as to whether that means the portion size will be even tinier than last time.
Sprout Society
In addition to Odd Burger mentioned above, Sprout Society is another all-vegan vendor that's joined Taste of Calgary this year. They're a meal delivery service offering mini versions of some of their most popular items for you to try:
Cali Surfin' Sushi Stack (6 tix)
Dreamy Creamy Alfredo (5 tix)
Sweet n' Easy Chick'n Shawarma (6 tix)
Puff Daddy Peanut Satay Skewer (3 tix)
Food Trucks
The four food truck vendors at Taste of Calgary 2023 that offer vegan menu items are:
The Greta Food Truck
The Greta has a new Chickpea Masala Taquitos dish this year for 6 tix. Consisting of stewed chickpeas, tomato, ginger, garlic, and coconut crema, it's all vegan.
Mumbai Bites
Mumbai Bites' vegan option Vada Pav is back for another year at the same price (6 tix). It's basically deep-fried mashed potato in a bun, seasoned with Indian spices. And it's as good as it sounds. It's small for the price though. 4/5 stars. Below is a picture of my vada pav from last year's festival.
Sassy Scarlett's
This one is confusing because I had never heard of this food truck before, and an online search turned up zero results about a Calgarian business with this name. However, their menu looks to be Indonesian-themed with the sole vegan option being Sambal Tempeh, which is served "with rice and pickled salad," for 6 tix.
I'm quite excited about this one. One of my uni friends used to visit her parents on the weekends and bring me back her mom's homemade fried tempeh. This stuff was deeeelicious, I still dream about it sometimes. Needless to say, I'm looking forward to trying a tempeh dish at Taste of Calgary 2023!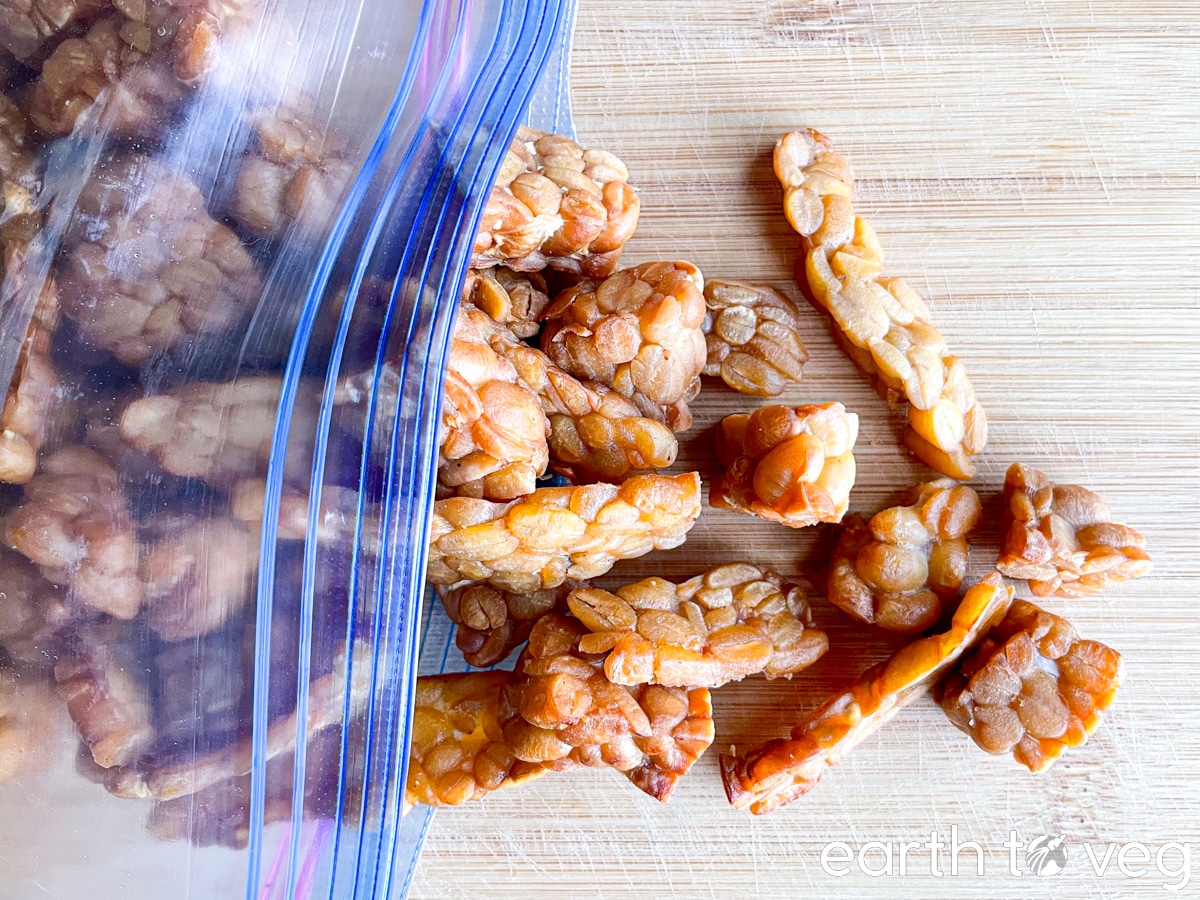 Uzu Ice Cream
Uzu Taiyaki is an ice cream truck, but they don't have any vegan ice cream flavours. (Last year, they did offer a vegan pandan option but it had sold out by the time I visited so I didn't get to try.) What they do have, though, is Peach or Passionfruit Tea for 7 tix. Quick, someone compare it to Pure Street Food's Passion Fruit Tea (6 tix) and let us know whether it's worth spending an extra ticket!
Past Years
There were a few vendors I tried last year which unfortunately don't seem to be returning for 2023.
V Burger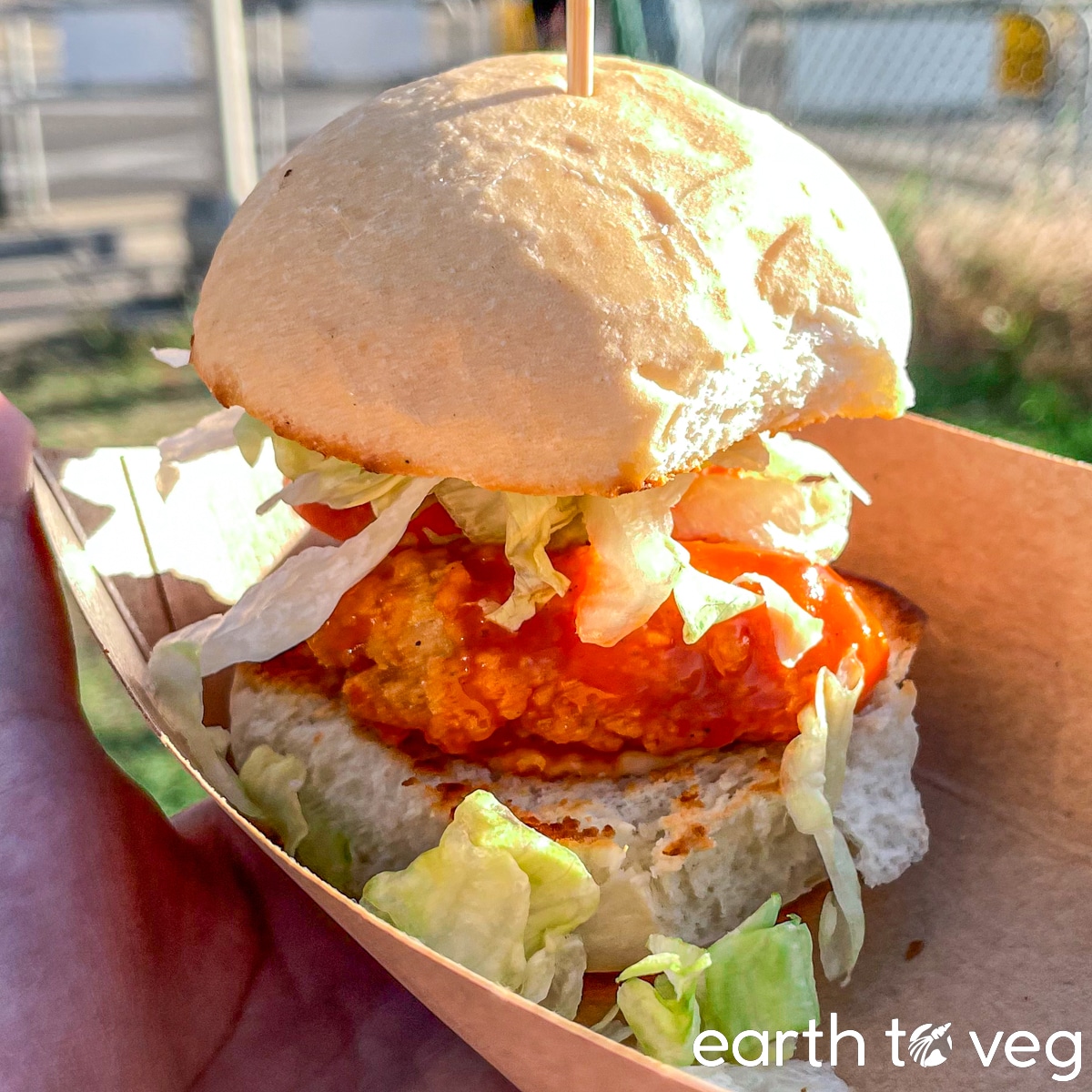 I tried V Burger's Buffalo Chick'n Burger for 5 tix. SO DELICIOUS. I don't even like buffalo sauce on most things, because they usually layer it on too thick, but this was perfect. Even Kevin, who hates almost all vegan food, said the fake chicken was really good.
I'm sad to say that this was the only all-vegan option at the venue in 2022, and it had pretty much zero lineups whenever we passed by while the smoked meat truck beside it had a super long line. I wonder if that's why they're not returning this year. Moral of the story, more people in Calgary need to give vegan food a chance because they're missing out. 5/5 stars.
Eat Crow
Eat Crow has since closed since the 2022 festival, but last year, I paid 4 tix for their Seitan Skewers. $4 feels a little expensive for a single small skewer, but overpriced kind of seems like the theme of this festival. The seitan was pretty rubbery, definitely not the best I've had (my Okara Seitan Sausages are superior if I do say so myself). But it was still pretty decent and, according to Kevin, "edible!" 3/5 stars.